In recent years, the beauty industry has embraced aloe vera, infusing it into an array of skin care products ranging from moisturizers, serums, and masks to soothing gels and ointments. This versatile plant offers a variety of benefits for all skin types.
From its remarkable ability to hydrate and soothe irritated skin to its anti-inflammatory and antioxidant properties, aloe vera has proven its worth as a true ally in the pursuit of radiant and healthy-looking skin.
This article explains the benefits of aloe vera for your health and how to incorporate it into your skincare routine to achieve rejuvenated and glowing skin.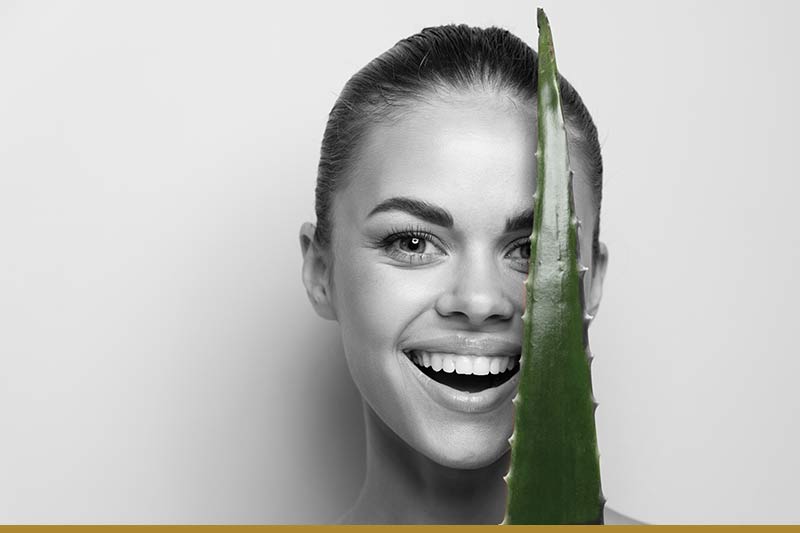 What Is Aloe Vera for Skin Care Made Of?
Aloe vera is a succulent plant originating from Africa. Its leaves contain a clear, gel-like substance that is used in many skin care products. The gel is extracted from the plant by simply breaking the leaves in half, after which it can be applied directly to the skin.
Despite growing in extremely dry environments, aloe vera is made up of 96% water and has an impressive capacity to retain moisture. The plant is rich in vitamins A, C, D, and E and minerals like zinc and potassium that contribute to its calming properties. Aloe vera also contains antioxidants, which protect the skin from oxidative stress and premature aging.
10 Benefits of Aloe Vera in Skin Care
There are many benefits of incorporating aloe vera into your skincare routine.
1. Effectively Moisturizes the Skin
Aloe vera has strong moisturizing properties since it is primarily composed of water. This makes it an excellent source of hydration. When applied topically, it helps replenish the skin's moisture levels, keeping it soft and supple. Aloe vera is also able to attract and retain moisture from the air, helping the skin stay hydrated for an extended period.
2. Soothes Inflamed Skin
Aloe vera possesses anti-inflammatory properties that can soothe and calm irritated and inflamed skin. Due to its effectiveness at relieving symptoms of inflammatory skin conditions, Aloe vera is a staple ingredient in the holistic treatment of eczema, psoriasis, and cold sores.
Aloe vera is especially helpful to individuals with sensitive or sunburned skin, as it helps to reduce redness and discomfort. This is why aloe vera-based, natural skincare products should be an essential part of your summer skincare routine.
3. Has Healing Properties
Aloe vera effectively reduces the healing times of wounds, cuts, and burns. It speeds up cell reproduction and penetrates deeper into the skin layers, providing moisture from within. Aloe vera also helps minimize scarring by boosting collagen production and fighting bacteria at the site of injury.
4. Calms Acne-Prone and Irritated Skin
Aloe vera is highly efficient in calming irritated skin. It is beneficial for acne-prone skin as it restores the natural balance and protects the skin barrier while also preventing acne scars from appearing. Aloe vera also soothes insect bites thanks to its antiseptic and anti-itching properties.
5. Decreases Puffiness and Dark Circles
Due to its anti-inflammatory abilities, aloe vera may decrease puffiness, swelling, and dark circles around the eyes. It is especially beneficial for moisturizing the delicate skin around the eyes.
---
Note: For alternative and more targeted ways to deal with dark circles around the eyes, read our posts about the best eye creams for dark circles, and microneedling under the eyes.
---
6. Has Anti-Aging Properties
Aloe vera is rich in antioxidants that slow down the aging process by protecting the skin from free radicals, UV radiation, and pollution. These factors damage the skin and contribute to the appearance of wrinkles and fine lines. Aloe vera also contains essential amino acids and enzymes that support the synthesis of collagen and elastin in the skin.
7. Contributes to Glowing Skin
Aloe vera efficiently cleanses the face and soothes redness and irritation. It is also able to reduce blemishes and dark spots, restoring a natural and youthful skin glow.
8. Balances Oily Skin
Aloe vera is suitable for oily skin since it unclogs pores while supporting the skin barrier. The plant can help regulate sebum production, thus helping to prevent excessive oiliness and reducing the appearance of shine on the skin.
---
Note: Learn how to get rid of oily skin, and check out our tips on how to take care of oily skin during summer.
---
9. Restores Scalp Balance
Aloe vera is highly beneficial for the scalp. It helps treat dry scalp by restoring moisture and contributing to shiny hair. It is also effective in treating dandruff and other scalp issues. Some experts suggest that aloe vera boosts hair growth by improving circulation.
10. May Reduce Stretch Marks
Aloe vera may help improve the appearance of stretch marks, but its effectiveness can vary from person to person. Stretch marks manifest as long, narrow, and discolored streaks on the skin and appear when collagen and elastin fibers break down rapidly. They commonly occur during pregnancy, growth spurts, or rapid weight gain or loss.
Is Aloe Vera Good for Any Skin Type?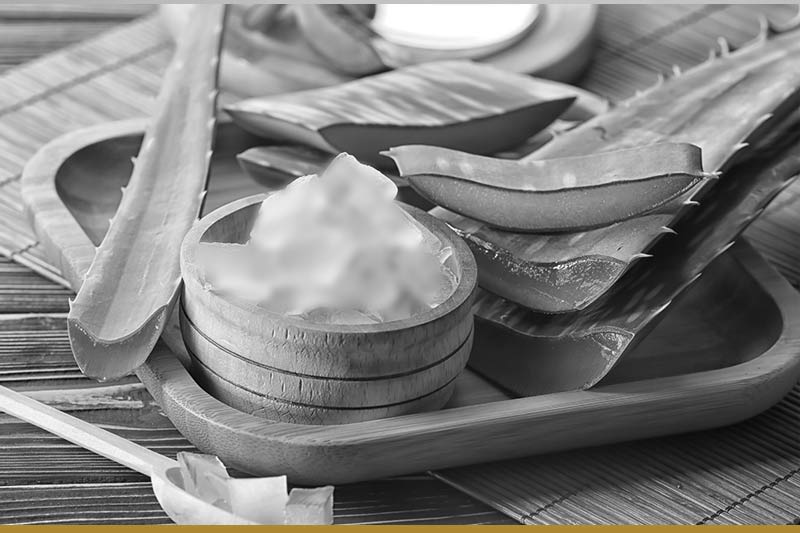 Aloe vera is suitable for all skin types due to its moisturizing and protective properties. Normal skin benefits from aloe vera due to skin barrier protection. Aloe vera soothes and deeply hydrates dry and irritated skin and prevents excessive sebum production in oily skin. Due to its anti-inflammatory and antiseptic abilities, aloe vera is also beneficial for treating cuts, burns, and insect bites.
---
Note: Discover your skin type and learn how to create a tailored skincare routine with our ultimate skin care guide.
---
How to Use Aloe Vera in Skin Care?
The recommended dosage and use of aloe vera depends on which area you are treating and for which reason. In most cases, aloe vera can be used several times a day. Rub it gently on cleansed skin or apply a thicker layer and wait for the skin to absorb it.
Vibrant Vitality Clinic recommends the following products containing aloe vera.
Vibrant Skin CBD Recovery Mask
This face mask has strong anti-inflammatory properties and anti-aging benefits for your skin. It is proven to be effective in combating the signs of stressed skin by providing a calming and soothing effect.
iS CLINICAL Active Serum
This gentle serum restores moisture in the skin and stimulates removal of wrinkles and fine lines. It is effective in improving skin elasticity and the overall appearance and health of your skin.
How Much Aloe Vera to Use in Skin Care?
The amount of aloe vera you should use depends on the area you wish to treat.
Face cleansing – Apply a small amount of gel to the face in circular motions and rinse with water.
Face toning – Mix two parts water and one part aloe vera gel. Apply with a cotton swab to the face.
Insect bites – Clean the area gently with soap and water. Dry it and apply a thicker layer of aloe vera gel. Reapply as necessary.
Cuts and wounds – Clean the area gently with soap and water. Dry it, apply a layer of aloe vera, and cover with a bandage. Reapply and change the bandage as necessary.
Skin conditions – To relieve symptoms of skin conditions such as eczema or psoriasis, cleanse your skin and apply a layer of aloe vera gel. Rinse after 15-20 minutes.
Acne and rosacea – Mix your acne solution with 1 tablespoon of aloe vera and 2-3 drops of lemon juice. Keep in the refrigerator and apply once or twice a day.
For sunburn – Apply aloe vera gel to the sunburned area several times a day until the redness subsides.
For scalp and hair – Apply aloe vera gel directly to the scalp and massage it for a couple of minutes before washing your hair or add a small amount to your shampoo and conditioner.
Is Aloe Vera Good to Put on Your Face Every Day?
Aloe vera is safe to apply for a longer period, including every day and overnight. Due to its various beneficial properties, it can be used daily as a regular part of your skincare routine.
---
Note: Find out what steps and products to include to achieve the best natural skincare routine.
---
Risk and Side Effects of Aloe Vera in Skin Care
Aloe vera is generally safe for use by everyone. However, consult your medical professional in cases including:
Allergic reactions
Pregnancy and breastfeeding
Using other medications
Severely infected or burned skin
Does Aloe Vera Clog Your Pores?
Aloe vera does not clog your pores and is considered non-comedogenic. In fact, aloe vera contributes to controlled sebum production, restoring balance to oily skin and preventing acne breakouts and blemishes.
Conclusion
Aloe vera is a staple of holistic skincare as it gently and naturally achieves and maintains healthy, rejuvenated, and radiant skin. Whether it's used in pure gel form or incorporated into skin care products, aloe vera offers an efficient solution for a wide range of skin concerns.