For an effective skincare regimen, skin experts recommend incorporating anti-aging products with antioxidants – ingredients that protect the skin from free radicals and potentially reverse their damaging effects.
Resveratrol is among the most potent antioxidants in skincare products, providing various benefits for healthier, more youthful skin.
This article explains how resveratrol works in the skin and how to use it for the best results.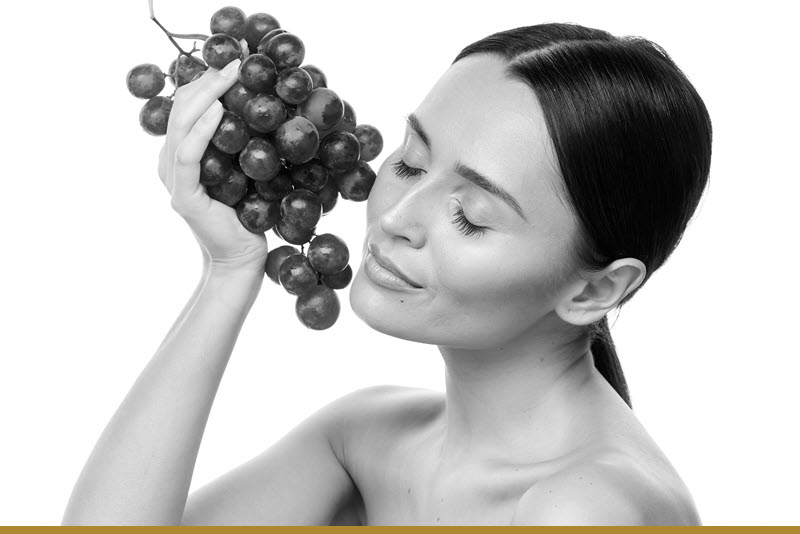 What Is Resveratrol?
Resveratrol is a compound found in over 70 plants, mostly in red grapes, berries, and peanuts. Scientists have found it has antioxidant, antimicrobial, and anti-inflammatory properties. Resveratrol may improve various medical issues and promote healthier skin.
This antioxidant can be obtained from food sources (berries, red wine, peanuts, dark chocolate), dietary supplements, and skincare products with this ingredient.
Resveratrol for Skin: Benefits
Resveratrol neutralizes the effects of free radicals, which cause aging on a cellular level. Its protective and reparative properties provide the following benefits:
Strengthened natural barrier of the skin
Increased collagen production due to the stimulation of fibroblasts
Protection from UV damage and hyperpigmentation reduction
Reduced skin inflammation and redness
Decreased skin sensitivity and improvement of conditions such as psoriasis, eczema, rosacea, and dry skin
These benefits result in smoother, brighter skin with fewer wrinkles and other imperfections.
---
Note: Use our ultimate skin care guide to determine your skin type and discover the best products for it.
---
How to Use Resveratrol for Skin
Skin experts recommend supplying the skin with resveratrol both topically and through a balanced diet.
Topical products with resveratrol include cleansers, toners, serums, moisturizers, and facial masks. Some skin experts recommend using products with resveratrol at night because studies suggest the ingredient increases the skin's sensitivity to light. Others maintain it can be used in the morning and at night but emphasize the need to apply a broad-spectrum SPF 30 sunscreen afterwards. Make sure to use the resveratrol treatment according to instructions on the product packaging label.
Most resveratrol creams contain up to 1% of resveratrol. Clinical research shows this amount is enough to reduce the damaging effects of UV radiation and other environmental pollutants.
Best Resveratrol for Skin
When choosing a topical Resveratrol product, it is important to choose a medical-grade brand with the correct percentage of active ingredients and carriers. Most medical-grade skincare companies know to combine active ingredients with carriers that help them penetrate the proper dermal layers.
Serums and creams typically contain higher antioxidant concentrations than lighter products, such as cleansers and toners.
The Vibrant Skin Bar team recommends iS Clinical's Copper Firming Mist because its medical-grade blend of resveratrol, other botanical antioxidants, and copper provides powerful protection against environmental pollutants, deeply hydrates, and significantly reduces the appearance of premature aging signs.
Who Should Avoid Using Resveratrol for Skin?
Skin experts agree topical resveratrol is safe for all skin types. However, if you want to enhance your topical skincare results with resveratrol supplements, they may not be suitable if:
You are allergic to resveratrol
You take blood-thinning medications (ibuprofen, aspirin, etc.)
You are pregnant or breastfeeding
Discuss the best resveratrol options for your skin and potential risks with your medical provider.
Resveratrol for Skin: Cost
The cost of resveratrol products depends on the type of product, its potency, amount per packaging, etc.
Topical resveratrol products range in price from about ten dollars to several hundred dollars for luxury, high-quality creams.
Conclusion
Resveratrol is among the best antioxidants for skin care, providing multifold skin benefits and effectively treating the most common aging signs. Incorporate it into your night skincare routine to enjoy the compound's rejuvenating effects.
Resveratrol benefits more than just the skin - scientists support the use of resveratrol for weight loss due to its positive effect on the metabolism, insulin function, hormone balance, and more. Consult a medical professional to determine whether resveratrol would be beneficial for you.