Red light therapy is a type of laser treatment that uses low-level red and near-infrared wavelengths to penetrate the skin. There, it interacts with cells and creates a chain of positive effects on the body. Weight loss is one of red light therapy's claimed beneficial effects.
This article explains how red light therapy for weight loss works, what results to expect, and how long they last.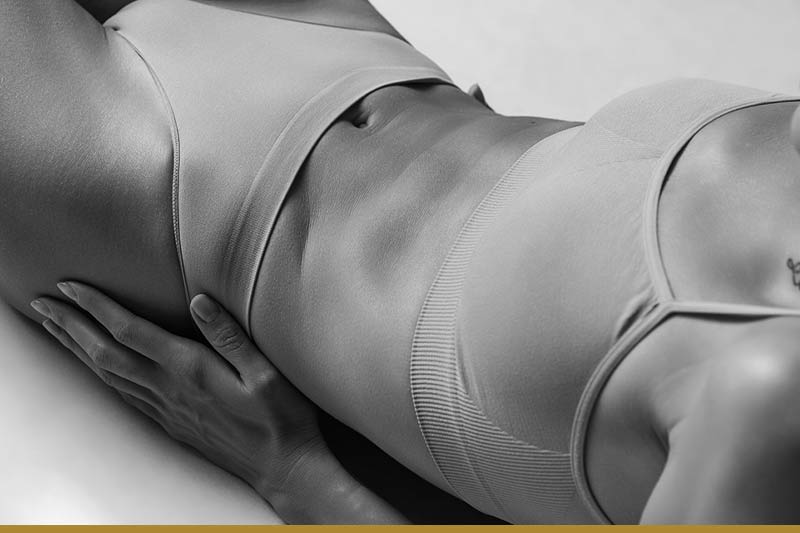 Does Red Light Therapy Work for Weight Loss?
Clinical research and patient experience suggest red light therapy provides modest fat reduction and weight loss. It activates cellular metabolism beneath the skin's surface where most excess fat is stored, reducing fat tissue, contouring the body, and slightly affecting weight.
What to Expect from RLT for Weight Loss?
Red light therapy primarily targets subdermal fat, decreasing total body mass and helping patients appear slimmer. It delivers the best weight loss results when combined with daily physical activity and a balanced diet.
Note that the treatment is more commonly used to improve skin conditions, such as loss of skin elasticity, wrinkles, redness, and other signs of premature aging skin.
---
Note: Want to shed those extra pounds? Read our tips on how to kickstart your weight loss journey.
---
The Process
The treatment involves lying in a room (in a clinic or med spa) with overhead red light panels that emit laser light. Alternatively, the provider may use a handheld device with LED bulbs, passing it over the treatment area. The process lasts 20-30 minutes for each targeted area.
Researchers believe that the laser causes adipocytes (fat cells) to absorb light, stimulating the release of stored fat into the bloodstream. The body's waste removal system then flushes it from the body through urine.
Another possible explanation is that when exposed to low-level laser light, mitochondria in fat cells speed up the production of ATP (adenosine triphosphate), increasing the metabolic rate and stimulating fat burn.
Patients report the procedure is painless, potentially causing a slight feeling of warmth and redness.
---
Note: These 14 weight loss products may help you in your weight loss efforts. Check them out!
---
Preparation
Red light therapy doesn't require any special preparation. The patient removes their clothes before the treatment, the provider cleans their skin, and gives them a pair of safety goggles to protect their eyes from the light.
Aftercare
The skin is sensitive after a phototherapy session. Follow these guidelines to protect it while it's recovering:
Avoid exposure to sun and sources of heat (saunas, hot showers) for 24 hours.
Avoid irritating skincare products for 24 hours.
Drink plenty of water to help the skin rehydrate.
To ensure the longevity of weight loss results, adopt healthy lifestyle habits:
Follow a nutritionally rich weight loss meal plan.
Engage in physical activity for at least 30 minutes daily.
Get plenty of sleep.
Avoid alcohol.
---
Note: Follow these sensible weight loss tips supported by science and endorsed by experts.
---
When Do Results Become Visible?
The time to the first results varies from patient to patient. Some people notice a slight reduction in their clothes' size after two weeks, while others need more time to achieve weight loss – even a few months.
How Long Do Results Last?
Practitioners still don't know how long the results last. The lack of scientific data makes it difficult to determine their longevity. Patients who follow a healthy lifestyle are more successful in managing their weight.
---
Note: Learn how medical weight loss can help patients achieve and manage their ideal weight.
---
Benefits of Losing Weight with Red Light Therapy
Red light therapy has a modest effect on weight reduction in terms of the number of pounds lost, but its fat reduction, body contouring, and skin-enhancing properties help the patients achieve satisfactory results.
The cumulative effects of RLT for weight loss include:
Localized fat loss – The treatment helps decrease fat that is difficult to lose with targeted exercises and diet.
Increased collagen and elastin production – This helps tighten loose skin after weight loss, helping patients appear more toned and contoured.
Reduced cellulite – Research shows combining RLT with exercise helps reduce cellulite in the buttocks and hip areas.
Reduced stretch marks – Because it stimulates fibroblast activity and collagen production, RLT effectively reduces the appearance of stretch marks.
Rejuvenated skin – RLT enhances the skin's tone and texture.
Increased body appreciation – The treatment's body contouring and rejuvenation effects improve the patient's self-confidence.
Downsides & Risks of Red Light Therapy for Weight Loss
There is a minimal chance of risk associated with red light therapy. Most studies report no significant side effects, with only two participants experiencing damaged skin. This was due to the LED device coming into close contact with the skin.
Red light therapy is a relatively new technology, still lacking data about the treatment's long-term safety and effects. Some studies suggest red light weight loss results may be short-term.
The main downside of red light therapy is its high cost. Depending on the number of treatments and treatment areas, the total cost may amount to several thousand dollars.
Also, the therapy may not work for people with darker skin tones.
Red Light Therapy for Weight Loss FAQ
Red light therapy is gaining popularity as a new weight-loss treatment. Patients are usually interested in learning about the following treatment details.
How Many Sessions of Red Light Therapy Are Required for Weight Loss?
Based on existing studies, the optimal frequency of red light therapy for weight loss is 12 sessions over six weeks (two sessions per week). One study showed that the patients can shed up to 3.7 pounds during this period.
How Often Can I Do Red Light Therapy for Weight Loss?
Providers recommend two to three RTL sessions per week for optimal results.
How Much Does Red Light Therapy for Weight Loss Cost?
The price of red light therapy for weight loss depends on how many areas the patient wants to treat and how many sessions they need per area. The cost also depends on the provider's location and expertise.
At Vibrant Vitality Clinic, one red light therapy session per treatment area costs $45.
Conclusion
Red light therapy is an emerging treatment for weight loss. Despite limited evidence that it reduces fat and body mass, it is a safe procedure with many other proven health and skin-enhancing benefits.
Patients who eat healthily, exercise, get plenty of sleep, and manage their stress levels can only benefit from red light therapy – and potentially enjoy a slimmer, more attractive figure.