A balanced nutrition and regular physical activity are essential for weight loss and weight management. However, a healthy lifestyle sometimes isn't enough. Aging, hormonal imbalance, insulin resistance, and other health issues often make it difficult to lose weight with diet and exercise alone.
Modern science provides alternative solutions for those who struggle with excess weight – from supplements to medical cosmetic treatments. This article presents 14 best weight loss products that will help you on your weight loss journey.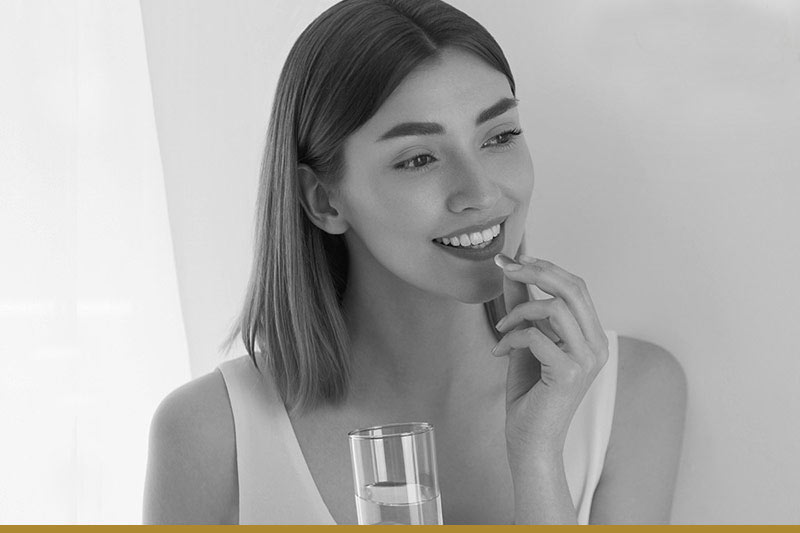 14 Best Weight Loss Products
The following selection is a mix of herbal remedies, supplements, medications, and medical cosmetic treatments that reduce appetite, increase energy, and accelerate calorie burn.
Discuss the weight loss options you like with your medical provider to determine their compatibility with your current medications and health concerns.
1) Elevate
Elevate by Osmosis is an enhanced iteration of the company's previous dietary supplement product, Collagen Activator. Clinical trials show it reduces cholesterol and triglycerides, noticeably increases energy, regulates metabolism, and accelerates fat burn*. It also includes ingredients that boost your immunity, libido, and mood, providing a broad sense of well-being*.
The suggested daily dosage is two capsules.
2) Osmosis MD Digestive Support Supplement
Another excellent product by Osmosis, Digestive Support, contains fast-acting essential enzymes that aid nutrient breakdown, improve digestion, and reduce toxicity and bloating. It indirectly assists with weight loss by increasing energy and helping the patient achieve their dietary and exercise goals.*
The suggested dosing is one capsule up to three times a day with meals.
3) Caffeine
Caffeine is a natural component of coffee, black and green tea, cocoa, and many other plants. It enhances mental alertness and raises energy, helping people increase their physical activity.
Many weight-loss products contain caffeine because clinical trials show it boosts metabolism and promotes weight, BMI, and body fat reduction.*
4) Green Tea Extract
Green tea extract is a concentrated form of dried green tea leaves. It contains caffeine, which promotes fat burn*, and the antioxidant EGCG, which lowers blood sugar and insulin sensitivity.
Many weight loss supplements contain green tea extract because it reduces appetite and accelerates calorie burn.* Studies show it is especially beneficial for fat reduction in the abdominal area.* Supplements with green tea extract are most effective when paired with exercise.
---
Note: Find out how to get rid of belly fat caused by hormones.
---
5) Raspberry Ketones
Raspberry ketone is a chemical found in raspberries, kiwis, peaches, apples, grapes, and other plants. Some studies show it assists in the breakdown of fat and increases adiponectin, a hormone associated with weight loss.
Some weight-loss supplements contain the synthetic version of raspberry ketones to reduce appetite and accelerate calorie burn.* More studies on humans are needed to evaluate the compound's effectiveness.
6) Topiramate
Topiramate is a medication in the class of anticonvulsants. It is prescribed to overweight and obese patients who have trouble losing and maintaining weight without medical help.
The medication is in the form of capsules, and the suggested dosing is one capsule in the morning. Your medical provider will monitor your progress and change the dosage if there are no results after several weeks.
Topiramate reduces appetite, but it only works in combination with a restrictive diet and regular exercise.
7) Phentermine
Like topiramate, doctors often prescribe phentermine to decrease appetite in overweight patients. They may offer it in combination with topiramate to extend its use because phentermine is approved for use only for 12 weeks.
This is a safe drug with minor reported side effects, but patients with heart problems may not be suitable for this therapy.
Phentermine must be combined with a healthy diet and regular physical activity.
8) Metformin
Medical providers prescribe metformin to patients with type 2 diabetes, but they also use it off-label for patients who struggle to lose weight, especially if they have insulin resistance.
The medication lowers glucose levels and suppresses appetite. It may also reduce the amount of visceral fat.
However, the medication doesn't provide quick weight-loss results. Studies and patient experience show it may take over six months to shed excess pounds and maintain optimal weight.
9) Liraglutide (Saxenda)
Liraglutide is an anti-diabetic medication that suppresses appetite. Saxenda is a brand name that received FDA approval in 2014 as the first liraglutide subcutaneous injection for weight loss and chronic weight management.
Doctors typically prescribe Saxenda to overweight patients with weight-related medical issues.
Studies and patient experience show the medication is effective when combined with a calorie-deficient diet and daily exercise. The drug can provide up to 5-10% weight loss and some patients notice a reduction in weight after only a few weeks.
10) Bupropion (Welbutrin)
Bupropion, marketed under Welbutrin, is an antidepressant often used off-label to treat other conditions, including obesity. Patients report a body weight reduction of 7-10% within six months. The medication is effective when combined with a healthy diet and exercise.
Studies show it is the only antidepressant that helps reduce weight, but more research is needed to understand the mechanisms of how the drug promotes weight loss.
11) Low-Dose Naltrexone (LDN)
Doctors prescribe naltrexone for opioid and alcohol use disorders, but they use low-dose naltrexone as an off-label treatment for overweight patients. It comes in the form of a pill and an injectable.
The effects of LDN on weight loss mechanisms are multiple, helping resolve factors leading to weight gain. The drug:
Reduces appetite
Improves sleep
Lowers insulin resistance
Lowers inflammation that leads to digestive disorders
Decreases body fat by increasing growth hormone production
12) Glucomannan
Glucomannan is a dietary fiber found in the konjac plant. It has high water-absorbing properties, giving the feeling of fullness in the gut and reducing appetite. Consistent use of the supplement can help with weight loss within 60 days.*
Glucomannan also provides other health benefits, including lower blood sugar, cholesterol, and triglycerides.* It is also effective at treating constipation.
13) Lipotropic Injections
Lipotropic injections, also known as Skinny Shots or Super Slim Shot injections, are supplements for fat reduction.* They contain vitamins, amino acids, and lipotropic agents that eliminate toxins, speed up metabolism, increase energy, and burn excess fat.* They help reduce and maintain weight* when combined with healthy lifestyle habits such as a restrictive diet and exercise.
Medical providers recommend one to three injections per week, an evaluation of results after 4-6 weeks, and follow-up weekly injections until the patient achieves their goals. Treatment results vary, but most patients report losing at least one pound per week.
14) IV Therapy
IV therapy is known as a medical treatment, but it is gaining popularity as a weight loss aid.* It involves giving the patient a mix of vitamins, nutrients, and sometimes medications intravenously to increase and speed up their absorption.
IV therapy for weight loss usually contains lipotropic agents, vitamin B12, L-carnitine, glutathione, and other vitamins that promote the breakdown of fat and increase energy.* Doctors select the nutrients and medications based on the patient's specific needs, and they recommend one or two treatments per month for the best results.
*Disclaimer
These statements have not been evaluated by the Food and Drug Administration. This product is not intended to diagnose, treat, cure, or prevent any disease.
Conclusion
Losing and maintaining weight can be challenging. Today, overweight people can choose between many weight loss products and treatments, but it is essential that a medical professional helps with their choice and guides them on their weight loss journey.
Note that supplements, medications, and treatments are designed to reduce weight only in combination with healthy eating habits and regular exercise.