Hormones are chemical messengers in our body that carry directives to different organs, "telling" them what to do and regulating their functions. With the glands that produce them, they make up the endocrine system, which coordinates our metabolism, reproduction, growth, sleeping cycle, blood sugar, and many other biological processes.
This article explains the symptoms and causes of hormonal imbalance, and how we can get our endocrine system back to optimal functioning.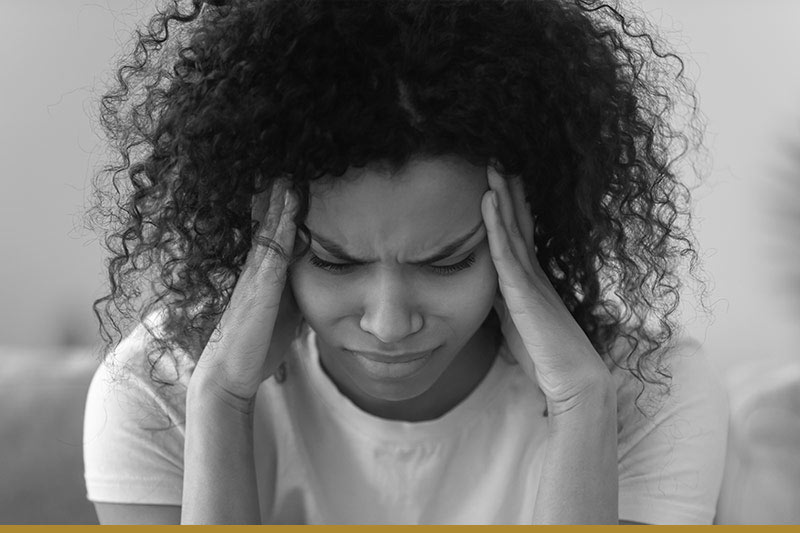 What Is a Hormonal Imbalance?
Hormones naturally increase and decrease throughout our lives. However, unexpected or long-term hormonal fluctuations result in a hormonal imbalance. Having too few or too many of one or more hormones prevents them from delivering the messages properly, disrupting the functions of the organs that receive them.
There are varying degrees of hormonal imbalance and the effects it can have on our bodies differ from person to person. Sometimes the patient's health is compromised, requiring medical attention and therapy. In other cases, the treatment is optional, depending on how the patient feels. If the symptoms are mild, the patient may be able to restore hormonal balance with a change in lifestyle habits.
Hormonal Imbalance Symptoms
Scientists have identified over 50 hormones in humans up to date. Since hormonal imbalance can be due to one or a group of hormones, symptoms are varied and can resemble those of other health issues. That's why it is important to contact your medical provider and perform necessary lab tests if you notice changes in your day-to-day well-being.
Some hormonal imbalance symptoms are specific to a particular sex or age.
Men typically experience these hormonal imbalance symptoms:
Low sex drive due to low testosterone levels.
Erectile dysfunction due to low testosterone levels.
Loss of muscle mass due to low testosterone levels.
Thinning hair and reduced hair growth due to reduced androgen hormones.
Gynecomastia (enlarged breasts) due to estrogen and testosterone fluctuations.
Hormonal acne due to excess testosterone.
---
Note: Learn how testosterone therapy restores optimal levels of this hormone.
---
For women, the most common hormonal imbalance symptoms include:
Heavy or irregular menstrual cycles due to changing levels of estrogen and progesterone
Infertility caused by insufficient progesterone levels
Low sex drive caused by decreased estrogen or high cortisol levels
Vaginal dryness caused by a drop in estrogen levels around menopause
Sudden and unexplained weight loss or weight gain (particularly around the abdomen) due to low thyroid hormones or high cortisol levels
Night sweats due to estrogen fluctuations in perimenopause
Mood swings caused by estrogen and progesterone fluctuations which decrease serotonin levels
Hirsutism (excessive hair growth on the face, chin, and other areas) due to rising levels of androgens, common in a condition called polycystic ovary syndrome (PCOS)
Hair loss due to high testosterone, high cortisol, or high or low thyroid hormones
Darkened skin on the armpits, neck, and underneath the breasts due to fluctuations in estrogen and progesterone
Hormonal acne due to excess testosterone, progesterone, and falling estrogen
---
Note: Learn how perimenopause differs from premenopause and menopause.
---
When they reach puberty, children get acne due to natural fluctuations in sex hormones. However, some children experience hypogonadism, a condition where the glands don't produce sex hormones, and the child doesn't enter puberty. Children may experience the following:
Menstruation doesn't begin.
Breasts don't develop in girls.
The penis and testicles don't grow.
The voice doesn't deepen in boys.
Growth is slower than in other children.
Muscle mass doesn't increase.
Body hair is sparse.
Other signs of hormonal imbalance unrelated to sex and age include:
Faster or slower heart rate (tachycardia)
Fatigue
Irritability
Muscle weakness, tenderness, or pain
Tingling in the hands
Increased cholesterol levels
Intolerance to warm or cold temperatures
Constipation or diarrhea
Frequent urination
Extreme thirst
Blurred vision
Dry, brittle skin and hair
Warm and moist skin
Skin tags
Hormonal insomnia (trouble falling asleep, waking up frequently, decreased deep sleep, etc.)
---
Note: Adrenal fatigue is a lay language term used to describe symptoms of a hormonal deficit.
---
Hormonal Imbalance Causes
It is normal for hormones to fluctuate throughout the day. However, chronic and dramatic changes in our hormone levels often compromise our health. Certain periods in life, lifestyle factors, and medical issues are common causes of hormonal imbalances.
Life phases
Puberty
Pregnancy
Breastfeeding
Menopause
These are naturally occurring causes of hormonal imbalances. The symptoms they cause don't endanger our health and don't require treatment, but patients often seek help to alleviate discomfort and improve their quality of life.
Lifestyle factors
Poor nutrition
Sedentary lifestyle
Chronic lack of sleep
Chronic stress
Excessive smoking
Excessive alcohol consumption
Exposure to environmental pollutants
Medications and therapies (e.g., hormone therapy, steroids, chemotherapy)
Medical conditions
Tumors, such as pituitary tumors, prostate cancer, ovarian and breast cancer, etc.
Adenomas, or benign tumors
Cysts, lumps, and other growths on endocrine glands
Injury to an endocrine gland due to surgery, excessive blood loss, or head trauma
Autoimmune diseases such as Hashimoto's, Graves' disease, etc.
Diabetes
Cushing's syndrome, a disorder in which the body produces too much cortisol
Congenital adrenal hyperplasia, a disorder in which the body produces low levels of cortisol
Hyperthyroidism, when the thyroid gland produces too many thyroid hormones
Hypothyroidism, when the thyroid gland produces insufficient thyroid hormones
Viral or bacterial infections
Polycystic ovarian syndrome
How Is Hormonal Imbalance Diagnosed?
Endocrinologists are doctors specialized in treating endocrine disorders. However, a primary care physician can also diagnose a hormonal imbalance and provide adequate therapy.
The doctor performs a physical exam and asks the patient a series of questions about the symptoms and their duration. This can help the medical provider narrow down potential glands/hormones that are causing health issues and prescribe adequate tests.
Standard testing for hormonal imbalances includes:
Blood testing
Medical providers usually order blood tests to check the patient's thyroid hormones, sex hormones, glucose, or insulin levels.
Urine testing
Urine tests can show the levels of hormones that regulate menstrual cycles, such as the follicle-stimulating hormone.
Ultrasound, MRI, X-ray scans
Doctors order imaging tests if they suspect the existence of a growth (e.g., tumor or cyst) that is causing a hormonal imbalance.
Pelvic exam
Another way to identify potential lumps and growths is to physically examine reproductive organs and do a Pap smear test (for women).
Contact your medical provider if you experience symptoms that negatively affect your daily life. The doctor will determine if the symptoms are caused by a hormonal imbalance and prescribe therapy.
Hormonal Imbalance Treatment
Different treatments exist for hormonal disorders based on which hormones are out of balance and the severity of symptoms.
Hormone replacement therapy
Hormone replacement therapy is designed for patients suffering from a reduction in hormone levels. Women who experience uncomfortable menopausal symptoms, including hot flashes, low libido, and urinary incontinence, can benefit from individualized bioidentical hormone replacement therapy. The therapy is in the form of a pill, gel, cream, or a vaginal ring and typically includes a dose of estrogen, or estrogen and progesterone.
Male hormone replacement therapy is designed to help patients with erectile dysfunction, mental fog, sleep issues, and other issues that appear with aging. The therapy comes in the form of injections, patches, pellets, or gels and includes a dose of testosterone.
Medication
Patients suffering from excess hormones are prescribed medication to block their effects. Medications include:
Hormonal birth control pills, which regulate menstrual cycles and reduce acne and facial hair
Anti-androgen pills, which reduce the effects of high testosterone levels, acne, and facial hair
Thyroid medications such as thionamides, which normalize thyroid hormone levels
---
Note: Learn what are the supplements for hormone balancing.
---
Surgery
In cases where hormonal imbalance is caused by a tumor or a thyroid gland disorder, medical providers recommend surgery.
Lifestyle changes
The best way to keep your hormones in check is to maintain healthy lifestyle habits, including:
A balanced, nutritious diet
Regular physical activity
Quality sleep
Avoiding stress
Avoiding nicotine and alcohol
Conclusion
Hormones are an integral part of our biological system. Their imbalance can lead to many health issues, especially if you ignore the symptoms and don't seek proper treatment.
Our experienced medical professionals at Vibrant Vitality Clinic are dedicated to helping patients with hormonal disorders reduce the risk of severe illness and improve their quality of life. Visit us today to begin your healing journey!