People who struggle to lose weight through lifestyle modifications, such as restricted calorie intake and regular exercise, may benefit from certain medications that help with weight loss.
Naltrexone is a prescription drug whose FDA-approved indication is opioid and alcohol dependency disorder. However, clinical research and patient experience show that when used in low doses, the medication modifies various physical processes, contributing to weight loss. That is why many medical providers use low-dose naltrexone (LDN) off-label to treat overweight and obese patients.
This article explains the mechanisms of low-dose naltrexone for weight loss, helping you determine if it is suitable for you.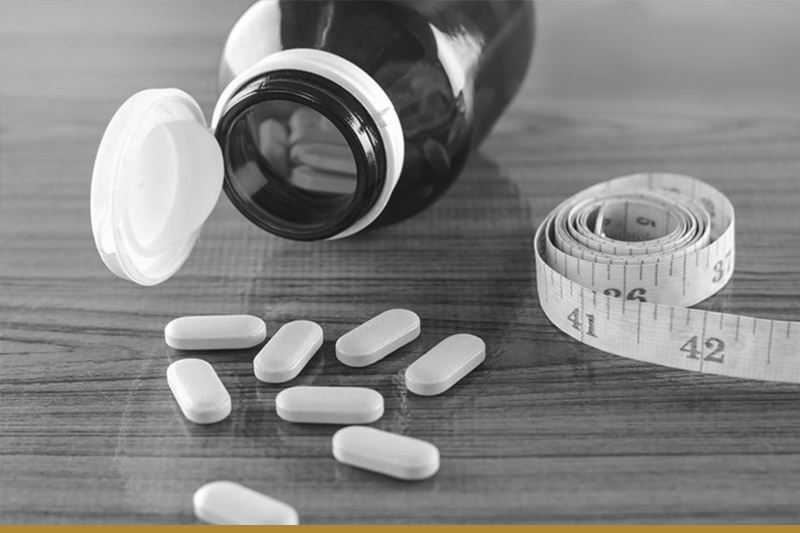 How Can Low-Dose Naltrexone Help You Lose Weight?
Low-dose naltrexone may help patients lose weight by improving the conditions that contribute to weight gain.
1. Low-dose naltrexone reduces appetite
Overweight patients often experience an imbalance in the body's hunger signals, craving more food than they need for essential bodily functions.
Low-dose naltrexone helps regulate these signals, reducing the patient's appetite. Scientists speculate the medication does this by blocking endorphin action in the brain's opioid receptors and decreasing the pleasure from eating.
2. LDN lowers insulin resistance
Insulin resistance is one of the main reasons for weight gain. When we eat, the pancreas produces insulin, which tells our body cells that food in the form of blood sugar is available. If cells fail to respond to insulin, they don't consume the sugar, and levels rise in the blood. This surplus of blood sugar is stored as fat, leading to weight gain and severe health issues.
Some studies show that low-dose naltrexone can decrease insulin resistance in people with hyperinsulinemia (high insulin levels) by 40%. Regulating insulin levels helps patients break free from the self-perpetuating cycle of insulin resistance and weight gain.
3. LDN reduces inflammation
Doctors have observed that overweight and obese patients typically present signs of chronic inflammation. Inflammation leads to various health issues, including insulin resistance, higher glucose levels, higher estrogen levels, and hormonal imbalances, which can all lead to fat accumulation.
Studies show that naltrexone reduces the secretion of pro-inflammatory cells (cytokines). By reducing inflammation, hormone levels are balanced, which allows for easier weight loss.
4. LDN increases growth hormone levels
Clinical practice shows that overweight patients have reduced levels of growth hormone. The pituitary gland produces growth hormones to regulate bone density, fat accumulation, and muscle mass.
By regulating insulin resistance and decreasing insulin levels, low-dose naltrexone helps increase growth hormone production, boosting patients' metabolism and raising lean muscle mass.
5. LDN improves sleep
Clinical research confirms the link between poor sleep and weight gain. Lack of sleep may cause hormonal imbalances that lead to overeating and increase inflammation.
One reported effect of using naltrexone to block opioid receptors is feeling calm and relaxed. Doctors speculate that low-dose naltrexone can help overweight patients with disturbed sleeping patterns, indirectly eliminating the cause of weight gain.
6. LDN improves thyroid function
The thyroid gland helps regulate metabolism. An imbalance in thyroid hormones (T3, T4) often causes weight gain and makes it more difficult to lose the extra pounds.
Low-dose naltrexone increases T3 levels and boosts T4 to T3 conversion, helping patients who are overweight due to hypothyroidism.
---
Note: Learn about other effective products for weight loss.
---
How to Take Low-Dose Naltrexone for Weight Loss?
Naltrexone is available in the form of a pill and an extended-release injectable.
Doctors typically prescribe LDN pills for weight loss. They recommend a specific dosage for each patient based on their weight and medical condition. Naltrexone is always used in low doses for weight loss, meaning one-tenth of the full medication dose. The usual LDN dose range for weight-related issues is 1.5-4.5 mg.
Patients take LDN pills once a day, usually at bedtime.
How Much Weight Can You Lose with Naltrexone?
Naltrexone alone doesn't result in significant weight loss. Some patients report a modest weight loss of up to ten pounds.
Medical providers who prescribe LDN to patients usually design a comprehensive weight-loss plan that includes other strategies such as a restricted-calorie diet, other medications, supplements, hormones, and counseling. Patients who adhere to the prescribed medical weight loss plan can lose 20-30 pounds within several months.
How Long Does It Take for Low-Dose Naltrexone to Work for Weight Loss?
The time before seeing the first results is unique to each patient. Most patients report that the drug changes their appetite habits and curbs cravings. Some report dropping ten pounds in three weeks, while others experience those results after two or three months.
Low-Dose Naltrexone for Weight Loss: Side Effects
Like all FDA-approved medications, naltrexone comes with a list of potential side effects.
Common side effects include:
Nausea
Sleepiness
Headache
Fatigue
Muscle cramps
Painful joints
Sleeping issues
Rare severe side effects include:
Cold symptoms
Constipation
Liver damage
Intense stomach pain
Serious allergic reactions
Pneumonia
Depression
Low-Dose Naltrexone for Weight Loss Cost
Our medical professionals at Vibrant Vitality Clinic offer several comprehensive medical weight loss programs.
The program is customized for each patient and can include low-dose naltrexone in combination with other strategies.
Some of the weight-loss strategies we use include:
Vibrant Detox kit
Diet plan
Nutritional counseling
Prescription appetite suppressants
Weekly Semaglutide weight-loss injections
Daily supplements
---
Note: Learn more on what is medical weight loss and how does it work.
---
Conclusion
Losing weight can be challenging, and many patients require medical help to succeed. Fortunately, modern medicine offers advanced tools that regulate the physiological causes of weight gain and help patients suppress unhealthy eating habits. Medical providers often use low-dose naltrexone because it addresses various biological processes related to weight management.
Schedule a free consultation with our medical team to learn how LDN can help you on your weight loss journey.