Magnesium is a mineral found in our bones and soft tissue that helps regulate various biochemical processes to keep us healthy and alive.
Our bodies don't produce this essential mineral, so food is our primary source of magnesium. Just a few servings of magnesium-rich foods are enough to give the necessary amount of magnesium, but many people still lack this nutrient. Magnesium deficiency can lead to health problems, such as high insulin and blood sugar levels, bloating, constipation, fatigue, etc.
This article explains how magnesium regulates weight-related issues and how supplementing this nutrient can help you lose weight.*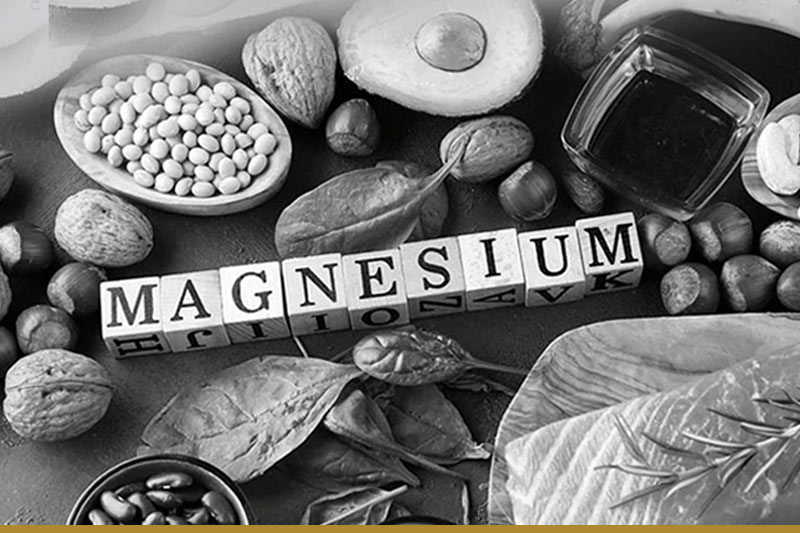 Can Magnesium Help You Lose Weight?
Magnesium helps manage factors that contribute to overeating and weight gain, including insulin resistance, stress, and poor sleep. Magnesium deficiency makes it challenging to control these factors.
However, supplements alone won't reduce weight. They help overweight patients with magnesium deficiency shed excess pounds, but only in combination with balanced nutrition and regular exercise.
---
Note: Read our article to find out more practical weight loss tips.
---
Magnesium for Weight Loss Benefits
Studies show magnesium significantly reduces BMI in certain people with magnesium deficiency. The link between magnesium intake and weight reduction is indirect. The mineral can help deficient patients lose weight by providing the following benefits.*
1. Regulates Appetite and Prevents Overeating
Magnesium activates enzymes that help break down, absorb, and use proteins, fats, and carbohydrates. This helps regulate appetite and prevent deficiency-related overeating.
2. Improves Mood
The mineral converts the amino acid tryptophan into serotonin, improving mood and curbing emotional eating.
3. Maintains Optimal Insulin and Sugar Levels
Magnesium plays a crucial role in helping the pancreas produce insulin and regulating blood sugar levels. Healthy insulin levels mean the body does not store excess glucose as fat.
4. Provides Energy
It helps glucose enter the cells to produce energy. Optimal energy levels decrease sugar cravings and stimulate patients to be more active physically.
5. Improves Sleep
It regulates neurotransmitters that help improve sleep. Quality sleep lowers stress and provides the energy necessary to maintain healthy lifestyle habits.
6. Reduces Bloating and Water Retention
Magnesium helps reduce bloating, constipation, and water retention, resulting in a leaner figure.
7. Supports Muscles
Magnesium plays a vital role in regulating muscle function. This means exercise is more effective, increasing fat burn.
How Much Magnesium Should I Take for Weight Loss?
The National Institutes of Health recommend 300-400 mg of magnesium daily for adults.
Health experts maintain that a healthy diet, which includes several daily servings of the following foods, provides the necessary amount of magnesium.
Dark, leafy greens
Beans
Whole grains
Nuts
Seeds
Fish
Milk and yogurt
Tofu
However, many Americans eat processed, nutritionally poor foods that lack essential nutrients. In these cases, supplements can provide the recommended daily magnesium amounts.
IV therapy is a new method of correcting nutritional imbalances, and more patients are taking advantage of this quick and safe therapy. Magnesium is one of the essential elements and vitamins administered in this way.
---
Note: Learn more about IV therapy for weight loss.
---
Magnesium for Weight Loss Cost
Vibrant Vitality Clinic offers IV therapy for weight loss at $249.
The therapy includes magnesium, among other vitamins and nutrients that help patients achieve their desired weight.*
*Disclaimer
These statements have not been evaluated by the Food and Drug Administration. This product is not intended to diagnose, treat, cure, or prevent any disease.
Conclusion
Magnesium deficiency can lead to weight gain and other more severe health issues. Consult your doctor to determine if a lack of this nutrient is preventing you from losing weight.
Our medical experts at Vibrant Vitality Clinic can design a weight loss strategy unique to your symptoms, metabolism, and hormones. Contact our team, and they'll help you reach your ideal shape using various weight loss techniques, including nutritional supplements and IV therapy.