IV therapy has been used for decades for supplying medical patients with high doses of medications and rehydrating agents. Today, IV therapy is emerging as a broad-spectrum wellness treatment with a wide range of uses and benefits.
This article explains what IV therapy is, how it works, and how often to get the treatment for the best results.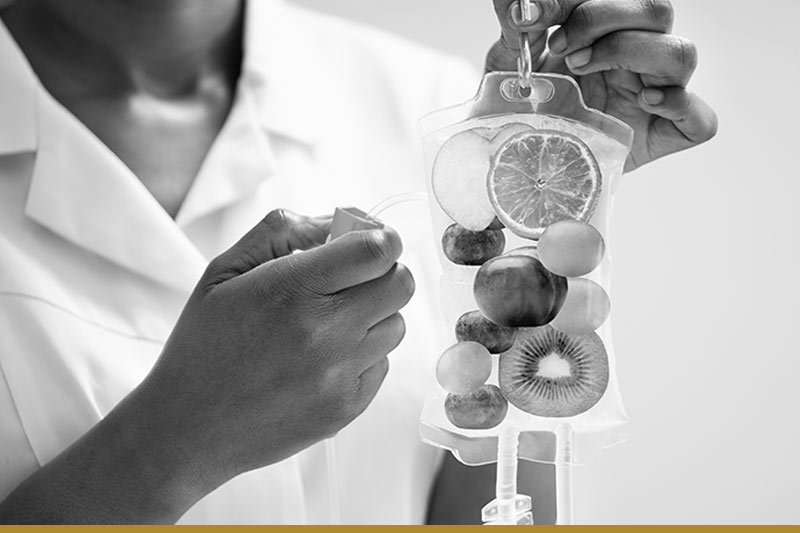 What Is IV Therapy?
IV therapy is the intravenous administration of fluids containing medications or nutrients which instantly supply the body with the ingredients it needs for recovery and wellness. It is a standard procedure in health care institutions but is now becoming popular in the beauty and wellness industry for its multiple benefits.
---
Note: Learn more about the different types of IV fluids and find out what they are used for.
---
How Does IV Therapy Work?
A medical provider, such as a doctor or nurse, prepares the therapy in an IV bag. They disinfect the patient's injection area, usually an arm or hand, and inject a needle in the vein. The needle is connected to a catheter or tube, which delivers the therapy from the IV bag into the patient's bloodstream via the drip method.
The advantage of IV therapy over the oral administration of medications and nutrients is that it bypasses the digestive system, which breaks down some of the nutrients before delivering them to the cells. IV therapy enables instant and total ingredient absorption.
IV Therapy Ingredients
The contents of an IV bag depend on the health concern the IV therapy aims to address.
Examples of IV ingredients include:
Vitamin C – a potent antioxidant that helps protect the body from pathogens, boosts collagen production and speeds up the healing process.
Vitamin B complex – consists of eight vitamins that help maintain the body's essential functions, support brain health, and increase energy levels.
Magnesium – a mineral that helps improve muscle and nerve functions, increases energy levels, maintains optimal blood sugar levels, and supports a healthy metabolism.
Zinc – a mineral that helps strengthen the immune system and speed up recovery.
Selenium – a mineral that helps protect the body from free radicals, improves age-related skin issues, regulates metabolism, and boosts immunity.
Vitamin D – an essential vitamin that helps build the immune system, supports the nervous system, maintains healthy bones and teeth, reduces inflammation, and regulates insulin levels.
Calcium – a mineral that helps regulate heart and muscle activity and maintain healthy bones.
L-carnitine – an amino acid derivative that helps break down fat tissue and turn it into energy, aids in weight loss, and improves energy levels.
Glutathione – a substance with antioxidant properties which helps reduce oxidative stress and signs of skin aging, improves insulin levels, boosts immunity, and fights infections.
Dextrose – a type of sugar that helps stabilize sugar levels in the body.
Antibiotics – medications that help cure bacterial infections.
Saline solution – a mixture of salt and water which is used as a base for IV therapy cocktails and has a rehydrating effect.
---
Note: Learn more about IV fluids for dehydration.
---
What Is IV Therapy Used For?
IV therapy has multiple purposes. It is typically used to help with the following conditions:
Dehydration
People usually experience dehydration because of an illness, extreme physical strain, or excess alcohol intake. IV therapy delivers rehydrating agents such as sodium chloride, potassium, calcium, dextrose, and vitamins, which quickly improve the patient's condition.
Bacterial Infections
Intravenous therapy is used in medical institutions for patients whose condition is rapidly deteriorating due to illness. Antibiotics administered this way have a quicker and more powerful effect than orally ingested drugs.
Weak Immunity
A cocktail of vitamins and minerals in IV therapy help strengthen the immune system, especially if administered regularly as a preventative measure against pathogens. They fight free radicals, detoxify the body, and reduce gut inflammation, which can weaken immunity.
---
Note: Find out which vitamins for an immune system boost are essential.
---
Weight Issues
IV therapy can't help patients lose weight directly. However, it aids in the process by supplying the body with nutrients that stabilize blood sugar levels, control appetite, speed up metabolism, and regulate other deficiencies in the body that contribute to weight gain.
Vibrant Vitality Clinic uses IV therapy in their medical weight loss programs for patients who need it.
---
Note: Learn how medical weight loss can help you achieve your ideal weight.
---
Athletic Performance
The right combination of hydrating and energy-boosting vitamins and minerals in IV therapy can help athletes improve their performance before a match or help them recover after intense physical strain.
---
Note: Learn more about IV Therapy for athletes in our article.
---
Anxiety and Stress
IV therapy has stress-relieving properties. When a body is deficient in certain vitamins, minerals, and other nutrients, it may experience stress, anxiety, fatigue, and diminished cognitive performance. IV therapy quickly replaces lost nutrients and relieves the symptoms of these deficiencies.
---
Note: Read our article to find out does IV therapy work and how effective is it.
---
Benefits of IV Therapy
Intravenous therapy provides multiple benefits due to the instant, high-level absorption of nutrients. Depending on the ingredients in the IV therapy, the treatment's benefits include:
Total rehydration
Boosted immune system
Increased energy
Reduced migraines and fatigue
Reduced stress, anxiety, and depression
Improved sleep
---
Note: For more details about the treatment's benefits, read this article on 8 Benefits of IV Therapy.
---
Where Can You Get IV Therapy?
IV treatment is viewed as safe but carries potential risks if administered by non-medical professionals. It is essential that a medical professional delivers the therapy.
Common locations to get the treatment include:
A hospital
Emergency room
A medical spa
A drip bar
A mobile IV hydration bus
Home or office
IV Therapy Cost
The cost of IV therapy depends on the facility's location. Insurance companies cover the costs if the therapy is required for medical reasons, but not for cosmetic or wellness purposes.
At Vibrant Vitality Clinic, IV therapy costs $149. It consists of supplements prescribed by Vibrant Vitality Clinic medical providers.
FAQ
People interested in intravenous therapy often wonder if the treatment is safe and effective. Here we answer the most common questions about IV treatment.
Is IV Therapy Safe?
Health institutions have safely administered IV therapy for decades. However, like any other medical procedure, it carries certain risks. These include:
The catheter stays in the vein for too long.
The needle pushes too much air into the vein or moves.
The injection site isn't sterile.
The IV therapy is administered too quickly.
Blood leaks into nearby tissue.
Consequent risks include:
Collapsed vein
Air embolism
Infection
Fluid overload
Hematoma
Phlebitis
For this reason, it is essential that medical personnel perform the procedure.
Is IV Therapy Painful?
IV therapy isn't painful. Apart from the slight prick of the needle when it is administered into the vein, patients usually don't feel anything during the drip infusion.
How Often Should You Get IV Therapy?
The optimal frequency of IV therapy depends on its purpose. It can be given every few months for an immunity boost or as necessary to combat illness or cure a hangover.
In healthy patients, medical experts recommend a bi-weekly treatment to maintain optimal nutrient levels for wellness and beauty.
How Long Does IV Therapy Take?
IV therapy usually lasts between 30 and 60 minutes, but the duration depends on the patient's condition, why the treatment is given, IV therapy dosage, etc.
How Long Does IV Therapy Last?
After IV therapy, the elevated nutrient levels typically last from several days to a few weeks.
Conclusion
IV therapy is a safe medical intervention with multiple uses, from illness recovery to weight loss and a brighter complexion. Schedule your treatment today to optimize the nutrient levels in your body and improve your overall health.