Vitamin D plays a crucial role in numerous physiological processes, including bone health, immune function, and regulation of cellular growth and development. This is why it is essential to maintain optimal vitamin D levels in the body.
Vitamin D is primarily obtained through sunlight exposure and food, but some people experience deficiencies or difficulties absorbing vitamin D. In these cases, vitamin D intravenous (IV) therapy is a smart solution for replenishing depleted levels in the body.
In this article, learn about vitamin D IV therapy, its uses and benefits for your health.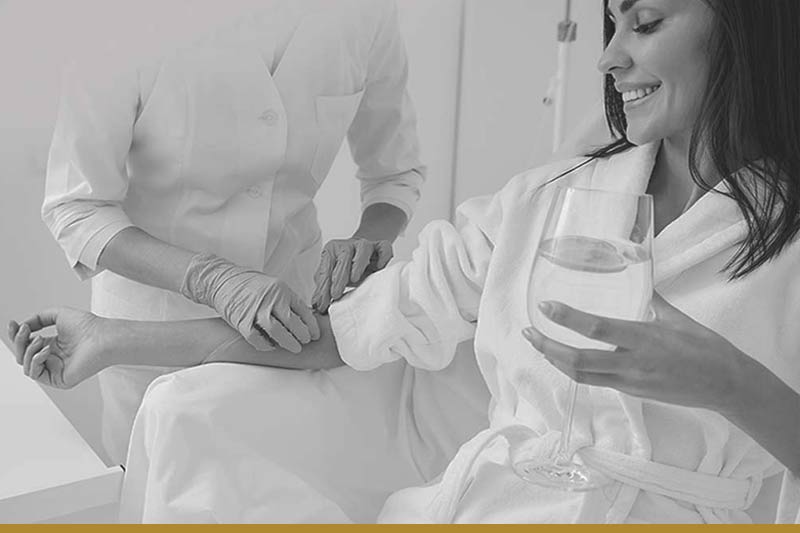 What Is Vitamin D IV Therapy?
Vitamin D IV therapy is an intravenous treatment containing vitamin D and other vitamins and minerals prescribed by your medical provider on the basis of your symptoms.
IV therapy is an effective way to administer vitamins directly into your bloodstream and bypass the digestive system. This allows for immediate absorption and utilization in the body and immediate improvement of vitamin D levels.
Vitamin D Deficiency: Causes and Symptoms
Many factors can cause vitamin D deficiency:
Little to no sun exposure
Excessive use of sunscreen
Poor diet
Obesity
Darker complexion
Kidney or liver disease
Certain types of cancer (lymphoma)
The symptoms of vitamin D deficiency include:
Weight gain
Low energy
Hair loss
Muscle pain
Bad mood
Fatigue
Difficulty sleeping
Vitamin D IV Therapy Benefits
Vitamin D IV therapy increases levels of this essential vitamin, positively impacting the following processes and conditions in the body.
Stronger and Healthier Bones
Without vitamin D, the body is not able to store and utilize calcium, which can lead to issues such as bone weakness, skeletal deformities, and posture problems.
During menopause, drops in estrogen levels cause loss of bone mass and bone density, which can result in osteoporosis. Vitamin D deficiency can exacerbate osteoporosis, so having sufficient levels of this vitamin helps maintain bone mineral density.
---
Note: The hormonal shifts that occur during perimenopause and menopause can bring on many uncomfortable symptoms. The experts at Vibrant Vitality Clinic have years of experience administering female hormone replacement therapy in the Phoenix area so you can bring back enjoyment to your everyday life.
---
Improved Immune System
Vitamin D plays a crucial role in building the immune system and regulating the body's immune responses. It protects the body from foreign pathogens by attaching itself to immune cell receptors and encouraging them to create protective antimicrobial peptides.
Vitamin D also helps to reduce inflammation as it lowers the levels of cytokines, shifting the body from an inflammatory response. For this reason, it is essential in preventing and curing chronic inflammation, which leads to many serious illnesses.
---
Note: Learn more about the best vitamins for an immune system boost.
---
Controlled Cellular Growth and Differentiation
Vitamin D contributes to healthy and controlled cell growth. When cells proliferate, they can mutate and lead to cancer. Vitamin D prevents this from happening by improving cell differentiation – the process that controls cell growth and tells in which process to specialize.
Although Vitamin D's anticancer properties have not been fully established, research shows that optimal doses of this vitamin do reduce cancer mortality rates.
Better Circulation and Heart Health
Vitamin D improves circulation by protecting the lining of the blood vessels and arteries, keeping them relaxed. It also reduces levels of angiotensin, the hormone which contributes to high blood pressure.
Scientific evidence shows that low levels of vitamin D increase the risk of high blood pressure and cardiovascular disease.
Effective Digestion
Levels of active vitamin D in the gut have been linked to microbiome diversity and the number of "friendly" bacteria in the intestine.
Gut health is essential for not only maintaining a robust immune system, it also helps keep inflammation in check. Inflammatory bowel disease (IBD), including Crohn's disease and ulcerative colitis, have been linked to a disturbed microbiome and dysregulation of the immune response. One way to keep our gut happy is to have sufficient levels of vitamin D in our system.
Improved Mental Health
Vitamin D alleviates symptoms of depression and improves mood by increasing the availability of serotonin in the brain. The vitamin also has a role in melatonin regulation, positively affecting sleep patterns.
In contrast, vitamin D deficiency can lead to mood swings, trouble sleeping, lack of concentration, and depressive episodes.
---
Note: Hormonal changes can affect the quality of sleep and cause insomnia. Read more about hormonal insomnia on our blog.
---
Better Reproductive Health
Fertility problems, especially polycystic ovary syndrome (PCOS), have been linked to vitamin D deficiencies. In fact, the severity of PCOS is correlated with the degree of vitamin D deficiency.
Research has shown that vitamin D plays a role in egg development, increasing the chances of conception. Furthermore, optimal levels reduce the risk of maternal and fetal complications.
Efficient Weight Loss
Studies have shown that people on a weight loss program who were also taking vitamin D supplements experienced more significant weight loss and had less belly fat than people taking a placebo.
Scientists hypothesize that vitamin D helps weight loss by decreasing the formation of fat cells and reducing their storage in the body. It also increases the levels of serotonin, the neurotransmitter that helps control appetite and reduce calorie intake.
---
Note: Learn about the benefits of IV therapy for weight loss.
---
Diabetic Support
Studies show that vitamin D may improve insulin resistance by reducing inflammation in the body. Combined with calcium intake, vitamin D also promotes insulin secretion, which improves patients' glycemic status.
---
Note: Learn more about the relationship between insulin resistance and weight loss.
---
Vitamin D Deficiency Treatment
Vitamin D IV therapy helps successfully treat vitamin D deficiency as it assists the body in reaching and maintaining optimal levels of the vitamin. Treatment is best combined with the intake of vitamin D-rich food, such as fish, egg yolk, and beef liver.
Depending on the severity of the symptoms, your medical provider could also recommend a combination of oral supplements or vitamin D injections.
How Does Vitamin D IV Therapy Work?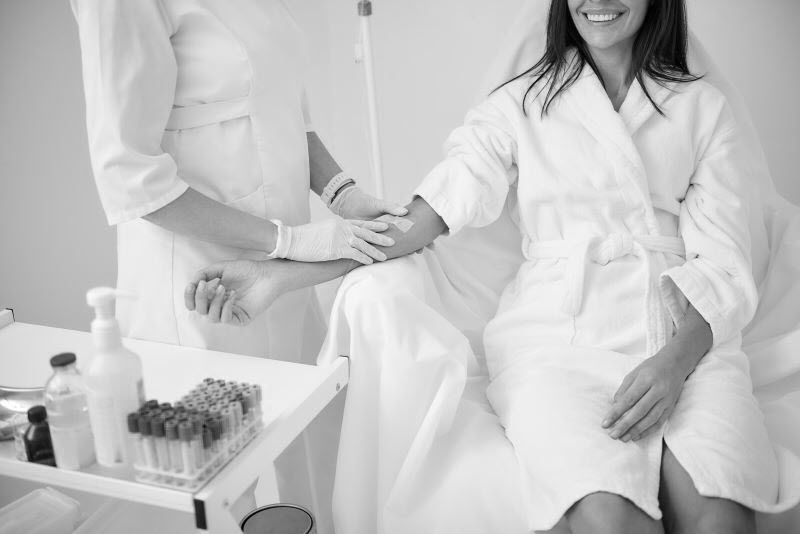 Vitamin D IV therapy begins with a medical provider gently inserting an IV line into the vein in your arm to connect you to the IV bag. The IV bag contains a mix of vitamin D and other vitamins and minerals that help your body absorb the nutrients faster and more efficiently.
The IV drip slowly delivers vitamin D into your bloodstream, bypassing your digestive organs and allowing the body to reach higher levels quickly.
Vitamin D IV therapy typically lasts from 20 minutes to one hour, depending on your medical provider's recommendation on the amount of fluid you should receive.
The number of treatments is recommended to each patient individually. Their frequency can vary from two or three times a week for treating specific illnesses and deficiencies to every two weeks or once a month for promoting overall health and wellness.
---
Note: Learn more about different types of IV fluids.
---
What to Expect from Vitamin D IV Therapy?
The effects of vitamin D IV therapy kick in right away. Patients experience higher energy levels and improved mental clarity as early as the same day of the treatment.
After the treatment, some patients might experience slight pain at the injection site and bruising or swelling. If this happens, patients can put an ice pack on the injected area and resume all activities while ensuring not to injure the injected arm.
The treatment itself may cause side effects similar to feeling jet-lagged or hungover, which is common for all IV therapy treatments and does not last very long.
How Much Does Vitamin D IV Therapy Cost?
The cost of vitamin D IV therapy depends on the number of treatments and the amount of fluid your medical provider recommends. Typically, IV therapy costs between $100 and $300.
Who Is a Good Candidate for Vitamin D IV Therapy?
Almost anyone who wishes to receive a vitamin D boost can get it through IV therapy. It is equally beneficial for patients with health issues stemming from vitamin D deficiency and people who just want to raise their energy and improve their mood.
However, vitamin D IV therapy is not recommended for the following groups:
People with sufficient levels of vitamin D
Pregnant women
People with kidney disease
Women who are breastfeeding
People with high blood pressure
People with heart conditions
People who are currently taking certain medications (such as medication for stimulating red blood cell production, bacterial or virus infection medication)
Conclusion
Vitamin D IV therapy is a promising approach to resolving vitamin D deficiencies and improving overall health. Vitamin D contributes to bone health, a strong immune system, and mood regulation. It also reduces the risk of chronic disease, heart conditions, and some forms of cancer.
For nutritional IV therapy in Phoenix, come to Vibrant Vitality Clinic to find the appropriate treatment plan, dosage, and frequency of vitamin D IV therapy.