When people hear testosterone, they think masculinity, strength, and power. The association is rooted in the biological fact that testosterone is the principal sex hormone in males. Produced in the testicles, it regulates male reproductive features, bone and muscle growth, metabolism, energy levels, and weight.
Testosterone production declines with age, often resulting in symptoms such as erectile dysfunction, lack of energy, and weight gain. Sometimes, younger men also experience a decline in testosterone production (hypogonadism) due to various medical conditions.
Today, medicine offers a solution for overweight men with testosterone deficiency, and it is called testosterone therapy. This article explains how TRT for weight loss can help patients.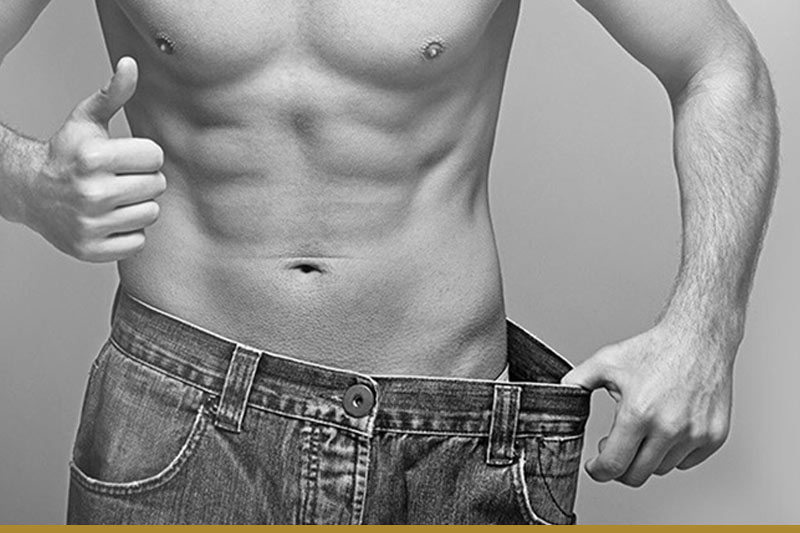 TRT for Weight Loss: Does It Help?
Scientists consider testosterone replacement therapy as an effective treatment for men with weight issues due to low testosterone (hypogonadism). They found that long-term TRT results in significant and sustained weight loss, reduction in waist circumference, lower body mass index, and improved body composition.
Studies on overweight and obese men also show that it improves metabolism and energy levels due to better mitochondrial function. Increased energy further helps with motivation, stimulating patients to increase physical activity.
Weight issues are typically resolved with a restrictive diet and regular exercise, but men suffering from hypogonadism need to combine lifestyle modifications with TRT to achieve desired results.
---
Note: Find out how resveratrol for weight loss works, and how is it related to testosterone.
---
TRT for Weight Loss: The Results
Testosterone therapy is customized for each patient according to their age, medical condition, and body composition. Not everyone experiences the same results, but the treatment is effective for most men with testosterone deficiency after a certain period.
The first thing patients experience is an increase in energy. This usually happens after several weeks of therapy. After about eight weeks, patients begin to see a reduction in fat mass, an increase in lean body mass, a reduction in waist size, and bigger muscles.
Long-term therapy helps sustain the effects by providing the energy required for lifestyle modifications, such as proper nutrition and regular physical activity.
---
Note: For more weight loss treatments learn how IV therapy for weight loss can help you.
---
Testosterone Dosage for Weight Loss
Medical providers need to establish an appropriate testosterone formulation – gel, patch, injection, pellet, etc. - to help treat an overweight patient with low testosterone. The dosage depends on the prescribed formulation and the patient's unique biological and medical factors.
The dosages for testosterone injectables are usually 50-200 mg and are administered every 1-2 weeks. The dosages for testosterone pellets are usually 150-450 mg, given every 3-6 months. If needed, the medical provider can raise the initial dose after a follow-up session.
Testosterone dosages and frequency of administration vary from patient to patient. Your chosen medical provider will determine the appropriate therapy following a physical examination and lab tests.
TRT for Weight Loss: Cost
At Vibrant Vitality Clinic, TRT for weight loss costs $249. It includes a 45-minute evaluation and physical examination to create a customized strategy for the patient. It also includes one 30-minute follow-up session to review the therapy's effects.
If needed, the patient can schedule more follow-ups at $99 per session.
Conclusion
TRT coupled with lifestyle changes provides a powerful and sustained weight-loss solution for men with testosterone deficiency.
Visit our medical professionals at Vibrant Vitaly Clinic to discuss your health goals and determine if TRT for weight loss can help you achieve them.