B vitamins (sometimes referred to as Vitamin B complex) are essential for many biochemical processes in our bodies. This includes transforming food into energy and producing and maintaining red blood cells, which transport energy through the body.
B vitamins may relieve symptoms such as tiredness, headaches, and muscle weakness. They also help maintain a healthy metabolism at optimal levels and encourage us to lose weight by keeping our energy levels up.
This article explains the benefits of B vitamins in your diet for losing weight*, the right dosage, and the possible side effects of ingesting too much vitamin B.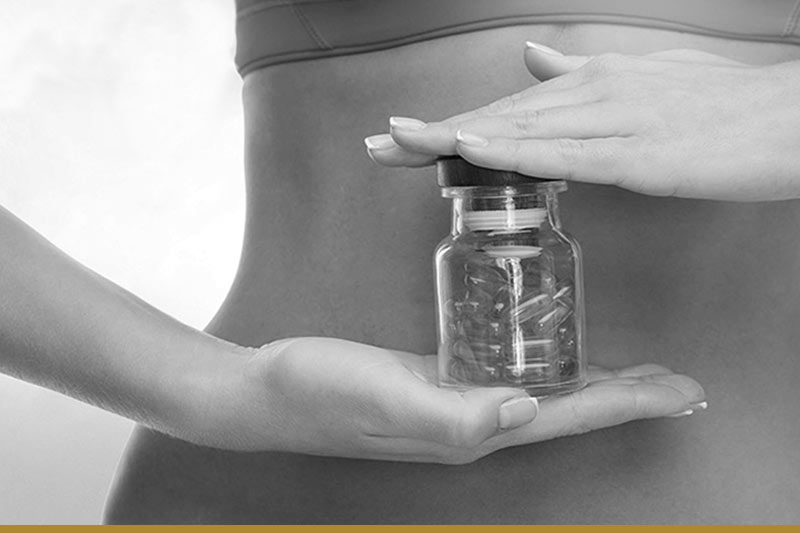 Do B Vitamins Help You Lose Weight?
Vitamin B plays an essential role in losing and maintaining optimal weight. Patients often experience weight loss stagnation because of vitamin B deficiency resulting from a prolonged diet low on nutrients, excessive alcohol intake, or high stress levels.
Vitamin B speeds up your metabolism by helping the body break down fat and protein in food and transform it into energy. This gives you the strength to maintain a regular exercise regimen and helps you sleep better.
Vitamin B regulates blood sugar levels, which is especially significant for diabetic patients. In addition, it boosts good cholesterol (HDL), which decreases the risk for heart disease, heart attack, and stroke.
Vitamin B also has a positive impact on our nervous system by helping fight depression and relieving stress, two common causes of weight gain.
Best B Vitamin for Weight Loss
Vitamin B complex consists of 8 vitamins, all of which help you lose weight* by improving vital bodily functions.
Vitamin B1 (Thiamine) - Helps break down carbs into energy, especially during exercise.
Vitamin B2 (Riboflavin) - Assists in energy production and cell growth.
Vitamin B3 (Niacin) - Helps the digestive system and boosts HDL levels.
Vitamin B5 (Pantothenic acid) - Manufactures red blood cells and promotes healthy skin and hair.
Vitamin B6 (Pyridoxine) - Speeds up the metabolism and converts stored fat into energy.
Vitamin B7 (Biotin) - Regulates the metabolism and nervous system; promotes healthy hair, skin, and nails.
Vitamin B9 (Folate) - Assists healthy blood and body cell formation and growth.
Vitamin B12 (Cobalamin) - Turns carbohydrates into glucose, relieves stress and depression, and improves brain and nerve function.
*Disclaimer
These statements have not been evaluated by the Food and Drug Administration. This product is not intended to diagnose, treat, cure, or prevent any disease.
---
Note: Scientists speculate that vitamin B12 deficiency is directly connected to weight gain. Learn how to improve your levels of vitamin B12 for weight loss.
---
How to Take Vitamin B for Weight Loss?
Our bodies don't produce vitamin B, so we have to ingest it through food, supplements, or injectables.
The following foods are valuable sources of B vitamins:
Meat and fish (especially beef, liver, and salmon)
Leafy greens (spinach, turnip, lettuce)
Milk and yogurt
Yeast
Cereal grains
Vitamin B supplements can be purchased without a prescription and medical grade supplements are available through providers such as VVC. The usual recommended dosage of a B complex vitamin can vary among manufacturers' individualized supplement formulas. It is important to always read the label of the supplement bottle to see which B vitamins are included and follow dosing guidelines.
Vitamin B can also be administered via IM injection or vitamin B IV therapy. This is the fastest and most effective way to administer B vitamins since it is administered directly into the bloodstream. This stops the nutrient from being dissolved in the digestive tract and losing some of its effectiveness, which happens with oral ingestion.
---
Note: Vitamin B alone can't help us achieve lasting weight loss results. Learn about effective weight loss tips to combine with your vitamin B intake.
---
Are There Any Side Effects?
Overdosing on vitamin B is rare but can happen if you take supplements and also eat foods fortified with the vitamin. Excessive doses of B vitamins can cause the following side effects:
Fatigue
Headache
High or low blood pressure
Nausea
Diarrhea
Liver damage
Rashes
In most cases, however, the body absorbs the amount of vitamin B it needs while releasing the rest through urine.
Vitamin B for Weight Loss Cost
Vitamin B is an essential component of Vibrant Vitality Clinic's signature IV therapy for weight loss.
The cost of IV therapy for weight loss is $179 per session.
Patients with a vitamin B12 deficiency can try vitamin B12 injections. At Vibrant Vitality Clinic, one vitamin B12 shot costs $25.
VVC medical professionals determine the frequency of treatments for each patient individually, depending on the causes of increased weight, their goals, and the overall progress of their weight loss journey.
Conclusion
Vitamin B complex assists your body in losing weight by providing essential nutrients while boosting your energy. In contrast, vitamin B deficiency can cause weight gain alongside other problems that contribute to it, such as fatigue, muscle weakness, and slow metabolism.
Reach out to the Vibrant Vitality Clinic team to design a custom weight loss regime that will help you achieve your dream weight.
Next, find out how vitamin C affects weight loss efforts.