The skin's primary role is to defend us from pathogens, pollutants, radiation, and other harmful factors. When they weaken our skin barrier and immune function, we can experience skin inflammation and associated conditions, such as rosacea, psoriasis, and eczema.
Skin experts recommend a consistent, anti-inflammatory skincare routine to reduce redness, pain, itching, and other inflammation symptoms. The process is gradual and requires patience.
This article recommends ingredients, products, and treatments to help you care for inflammation-prone skin.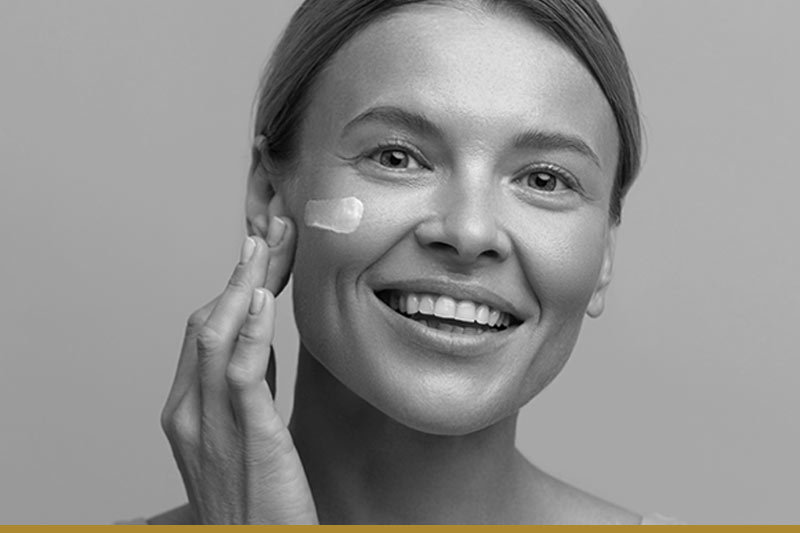 Anti-Inflammatory Skin Care: Ingredients to Look For
The following ingredients are valued for their skin-enhancing, antioxidant, antibacterial, and anti-inflammatory properties.
---
Note: Most of the following ingredients are commonly found in natural skincare products. For more information on how to develop a skincare routine that includes natural products and is tailored to your skin type, check out our guide to building the best natural skincare routine.
---
1. Vitamin A
Vitamin A, known as retinol in skin care, is one of the most potent anti-aging ingredients. It strengthens the immune system, helps neutralize free radicals that lead to inflammation, and speeds up cell turnover, aiding in the healing of inflamed skin.
2. Vitamin C
Vitamin C, or ascorbic acid, is the most abundant antioxidant in skin care. It protects the skin from oxidative stress, which triggers inflammation and supports collagen synthesis, strengthening the skin. Vitamin C is also a brightening agent, helping to even skin tone and reduce redness.
3. Vitamin E
Another powerful antioxidant, vitamin E or tocopherol, is often paired with vitamin C in topical products to enhance skin barrier function. It supports the body's natural healing processes, helping to calm and soothe irritated and inflamed skin.
4. Vitamin B3
Vitamin B3, known as niacinamide in the skincare industry, is the star ingredient in products designed for uneven, hyperpigmented, and acne-prone skin. It provides various benefits, including enhanced hydration, improved barrier function, and reduced inflammation.
5. Ceramides
Ceramides are lipids or fatty molecules that help maintain the skin's protective barrier, which consists of lipids and water. Ceramides lock in moisture on the skin's surface, preventing irritation, dryness, and inflammatory processes.
6. Squalene
Squalene is a naturally occurring compound that makes up sebum, which lubricates, hydrates, and protects the skin. Some plants and animals are a source of squalene, which is then turned into a more shelf-stable ingredient, squalane – commonly found in moisturizers and other hydrating products. By maintaining the integrity of the skin's protective barrier, squalene helps fight free radicals and minimizes skin irritation, redness, and dryness.
7. Green Tea
High in polyphenols, green tea is a common antioxidant and anti-inflammatory ingredient in skincare products. It protects the skin from environmental damage leading to inflammation. It also increases circulation, reduces swelling, and has a calming effect.
8. Curcumin
Curcumin is a nutrient found in turmeric with promising anti-inflammatory properties. Studies show it increases the activity of antioxidant enzymes, potentially reducing inflammatory diseases, including psoriasis, atopic dermatitis, and skin aging signs caused by low-grade inflammation. It is a low-cost, high-performing, and well-tolerated ingredient in skincare products.
9. Zinc
Zinc is an essential mineral valued for its ability to inhibit pro-inflammatory cytokines – cells promoting inflammation. It is used in skincare formulations to treat redness, eczema, acne, and rosacea and to improve wound healing. It is the key active ingredient in mineral sunscreens, helping to deflect UV rays and repair sun-induced irritation.
---
Note: Find out how to choose a sunscreen for your skin type.
---
10. Aloe Vera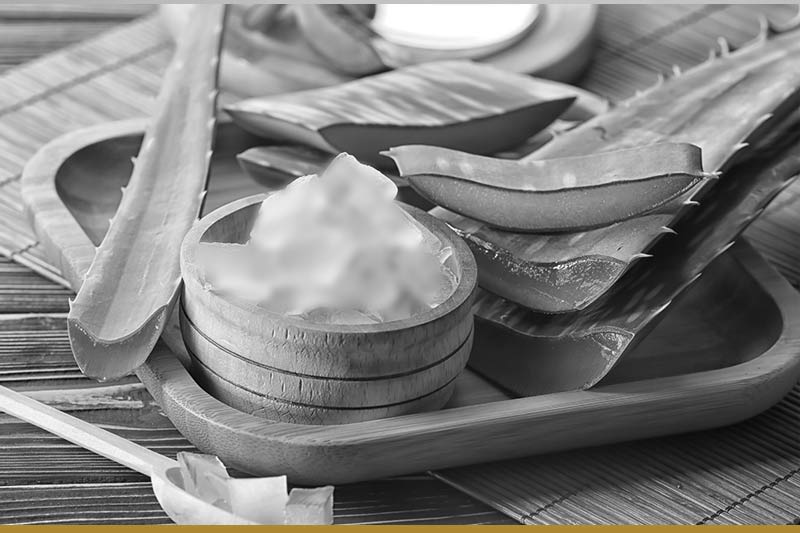 Aloe vera is a plant often used in moisturizers and products for sensitive skin because of its healing and soothing properties. It deeply hydrates the skin, helping it combat environmental pollution and heal faster.
---
Note: Find out why skin pollution is a growing concern, and how a skin detox and anti-pollution skin care help combat the negative effects of common environmental pollutants.
---
11. Colloidal Oatmeal
Some skincare formulations include colloidal oatmeal – finely ground oats – as a natural remedy for skin irritation, redness, and dry skin. You can also mix oatmeal powder with water and sprinkle it in a bath to soften and calm the skin.
12. Licorice Extract
Licorice is a rich source of anti-inflammatory compounds, including flavonoids, glycyrrhizin, and glabridin. It has been used in Asian medicine for centuries to soothe irritated skin. Topical products with licorice extract can help treat various inflammatory skin conditions, from redness and irritation to eczema and rosacea.
13. Centella Asiatica
Centella asiatica, also known as gotu kola and tiger grass, contains several ingredients with antioxidant and anti-inflammatory properties: saponins, flavonoids, and phenolic compounds. Centella asiatica effectively hydrates the skin and improves epidermal barrier function, helping to maintain healthy skin.
14. Chamomile
Chamomile contains apigenin, a compound with significant anti-inflammatory effects. Apigenin inhibits pro-inflammatory cells, helping reduce swelling, redness, and irritation. Products with chamomile help alleviate symptoms and reduce flare-ups in chronic skin conditions like acne, psoriasis, and dermatitis. It is very gentle on the skin.
15. Calendula
Calendula, or marigold, is commonly found in skincare products such as creams, ointments, salves, and balms because of its hydrating, soothing, and antioxidant features. It relieves a range of skin conditions, including dry, flaky, and irritated skin.
16. Witch Hazel
Witch hazel is a gentle botanical with anti-inflammatory compounds like tannins, polyphenols, and flavonoids. Products with which hazel have astringent (skin-tightening) and antioxidant properties, reducing inflammation, calming the skin, and protecting it from environmental damage.
17. Arnica
Arnica's primary anti-inflammatory compounds are found in the plant's flowers. The active compounds in the plant include sesquiterpene lactones and flavonoids, which help reduce swelling, bruising, and pain. Vibrant Skin Bar's experts sometimes recommend arnica supplements to patients who experience bruising after lip filler or as part of their Botox aftercare routine. Arnica is common in soothing gels, face masks, lotions, and acne treatments.
---
Note: Check out our selection of 11 holistic acne treatments you can try today!
---
18. Olive Leaf
Olive leaf contains antioxidants like oleuropein and hydroxytyrosol, which protect the skin from oxidative stress and support its overall health. The plant's healing and nourishing attributes make it suitable for holistic skin care.
19. Tea Tree
Tea tree oil is studied for its anti-microbial, antioxidant, and anti-inflammatory properties. Evidence suggests it helps alleviate skin inflammation, especially acne and eczema. However, it may cause irritation and increased sun sensitivity, so use it only as advised by your medical provider.
20. Camellia Oil
Camellia oil is another soothing botanical packed with antioxidants such as oleic acid, linoleic acid, and polyphenols. They calm irritated skin and help reduce redness and may also reduce acne.
8 Best Anti-Inflammatory Skincare Products
The following products contain medical-grade ingredients targeting signs of premature aging skin caused by oxidative stress, inflammation, and other skin-damaging factors.
1. Restorative Eye Treatment by Alastin
This rich eye cream is infused with potent anti-inflammatory ingredients, including green tea extract, squalene, and niacinamide. It is designed with patented TriHex Technology to remove damaged collagen and elastin and produce new, healthy skin-building proteins. The process helps strengthen the skin's protective layer in the delicate eye area and reduces dark circles, wrinkles, and puffiness.
Apply a small amount under the eyes and gently pat until the cream is absorbed. Use it in the morning and evening on clean skin.
Consult a medical provider before adding it to your skincare regimen.
---
Note: Find more recommendations, check out our list of the best eye creams for dark circles.
---
2. Regenerative Skin Nectar by Alastin
Regenerative Skin Nectar uses the same TriHex Technology as their Restorative Eye Treatment, but this product is intended for use before or after a skin rejuvenation procedure – microneedling, laser resurfacing, etc. It contains anti-inflammatory ingredients – arnica, olive leaf extract, and squalane, and antioxidants – vitamins E, C, oleuropein, phytoene, and phytofluene.
Use it as recommended by your treatment provider. The manufacturer suggests applying 1-2 pumps directly to the treated area twice daily and rinsing with water.
3. Pro-Heal Serum Advance+ by iS Clinical
Pro-Heal Serum Advance+ targets aging skin, effectively reducing wrinkles, blemishes, and other skin damage. It contains potent antioxidants, vitamins A, E, C, and olive leaf extract.
Apply it on clean skin as part of your evening skincare routine.
---
Note: Learn more about night skin care and which nighttime cosmetic products can help you rejuvenate your complexion.
---
4. Youth Eye Complex by iS Clinical
Youth Eye Complex is a gentle formula for all skin types. It is infused with vitamins A and E to help repair and strengthen the sensitive skin around the eyes while hydrating agents panthenol and hyaluronic acid promote healing.
Apply the cream around the eyes and lightly pat until the skin absorbs it. Use in the morning and evening.
5. Let's Get Clear Hydracell+ Mask by Vibrant Skin
Let's Get Clear is a medical-grade facial mask for acne-prone skin. It contains pure hyaluronic acid to deeply hydrate the skin and potent anti-inflammatory ingredients zinc, arnica, and copper. They help reduce swelling and redness, heal wounds, and improve skin elasticity.
It is ideal for use after an acne treatment.
6. Clarify Blemish Retinal Serum by Osmosis MD
This retinal serum is designed for oily, acne-prone skin. Its key active ingredients include niacinamide to balance sebum production and even skin tone, while chamomile, olive leaf, and tea tree leaf oil help soothe inflamed skin.
Apply 1-2 pumps on clean skin in the morning and evening. Follow with a moisturizer.
---
Note: Find more products for oily, acne-prone skin.
---
7. Replenish Antioxidant Infusion Serum by Osmosis MD
Replenish is packed with soothing, anti-inflammatory nutrients and botanicals, including niacinamide, vitamin E, camelia leaf extract, olive leaf extract, grapefruit peel oil, lemon peel oil, and ginkgo biloba leaf extract. These ingredients help diminish aging signs and inflammation caused by environmental aggressors.
Apply 1-2 pumps in the morning and evening after cleansing and before moisturizing the skin.
8. Skin Perfection Elixir by Osmosis MD
Skin Perfection Elixir is a dietary supplement for inflammatory skin concerns, including rosacea, eczema, psoriasis, and acne. It contains Osmosis MD's patented liquid fulvic solution and 24K edible gold to remove toxins causing inflammation and other skin concerns.
Spray 5 pumps in the mouth twice daily or 7 pumps if you weigh over 175 lbs.
Anti-Inflammatory Skincare Treatments
Cosmetic treatments are a more invasive but faster and more effective approach to improving skin health. The following procedures help reduce inflammation and other skin issues.
Red Light Therapy
Red light therapy is a quick, minimally invasive procedure that targets redness, inflammation, and wrinkles. It uses low-level wavelengths of red light to penetrate the skin and induce collagen production. It helps strengthen, firm, and rejuvenate the skin. The treatment causes no downtime or side effects and can be used as often as desired.
Skin Rehab
Skin Rehab combines face mapping with a holistic treatment to address acne, helping to decrease inflammation and clear the complexion. The treatment is customized for each patient depending on the cause of their skin concern.
Remedy Facial
Remedy Facial promotes healthy collagen and the skin's immune function to help treat sensitive and inflamed skin. It includes Vibrant Skin's Recovery Mask, which contains CBD, a powerful antioxidant and anti-inflammatory ingredient.
Lymphatic Lift
This popular treatment combines lymphatic drainage with intraoral massage to increase circulation and remove toxic waste causing inflammation and skin irregularities. The result is lifted, tighter, and rejuvenated skin.
Microneedling with PRF
Microneedling with PRF uses tiny needles to puncture the skin and apply platelet-rich fibrin, a plasma derivative produced from the patient's blood. PRF promotes skin cell renewal and increases collagen and elastin production. The treatment helps with various skin issues, including inflammatory conditions.
Jet Plasma Lift
Jet Plasma Lift is an advanced skin-tightening cosmetic treatment. The device uses plasma energy to penetrate the skin, stimulating collagen synthesis and helping to calm inflammatory conditions such as rosacea and eczema. It also helps reduce acne, hyperpigmentation, skin laxity, wrinkles, and other signs of aging skin.
Conclusion
Skin inflammation symptoms range from mild and short-lived, such as redness, dryness, and sunburn, to chronic conditions like rosacea and psoriasis. Many natural, plant-derived ingredients help to relieve inflammation, so look out for these when shopping for skincare products. Also, consider going for an anti-inflammatory facial for more immediate and long-lasting results.
Whether your skin concerns are age-related or caused by other factors such as inflammation or hormonal imbalances, come to Vibrant Skin Bar. Our experts will find the right solution for your esthetic goals.