Unlike hunger, which is a basic physiological state, food cravings usually result from more complex psychological, mental, or hormonal factors. They often involve the need for indulgent (sugary or fatty) foods and carry the risk of becoming unhealthy eating habits.
With the worldwide increase in overweight and obesity, people look for solutions to manage food cravings. This article rounds up the best appetite suppressants among natural products, explaining their ingredients and how they work.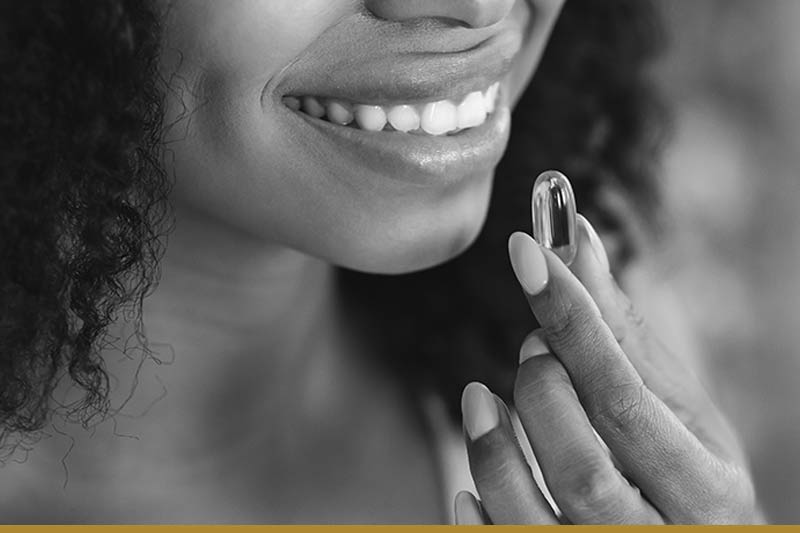 What Are the Best Appetite Suppressants?
The best appetite suppressants contain non-toxic, naturally sourced ingredients that reduce appetite, increase satiety, or improve calorie burning. They also positively affect the hormones that aid weight loss. These natural supplements cause fewer side effects than medications and often provide additional health benefits.
Vibrant Crave Control
Vibrant Crave Control by Vibrant Skin is a dietary supplement containing the essential amino acid L-phenylalanine, proven to support normal gut hormone levels and reduce food intake. It also stimulates insulin release, lowering glucose levels and aiding in diabetes type 2 management.
The supplement is safe for healthy people, including children.
Take three capsules daily between meals or as your medical provider advises.
Vibrant Crave Control | $28.50
Vibrant Skinny Spray
Vibrant Skinny Spray by Vibrant Skin is a proprietary blend of fat-burning ingredients, including acetyl L-carnitine and methylcobalamin B12.
Acetyl L-carnitine is a form of L-carnitine, a vitamin-like chemical that turns fat into energy. Methylcobalamin B12, a form of vitamin B12, helps to raise energy and increase endurance during a workout.
The supplement also contains potent vitamins, amino acids, and lipotropics to further increase energy levels and help preserve lean body mass. The ingredients in Vibrant Skinny Spray improve metabolism and provide energy for increased physical activity, aiding weight loss and indirectly helping manage cravings.
The supplement is safe for most healthy people, including children. In rare cases, it may cause mild gastrointestinal issues, such as upset stomach, nausea, and vomiting.
Spray the supplement into your mouth six times daily.
---
Note: Find out how amino acids for weight loss work.
---
Relora
Relora is a unique blend of two tree bark extracts: Magnolia officinalis and Phellodendron amurense. These plants have a long history of relieving various stress-related issues, including digestive problems, sleep deficiency, and emotional eating. A study that followed women who succumbed to food cravings due to stress showed Relora helped them control their appetite and maintain their weight.
Take two capsules daily with or without meals.
Other Natural Appetite Suppressants
The following foods, plants, and herbs are some of the best natural appetite suppressants. Look for these ingredients in pharmaceutical products for appetite and weight management, or incorporate them into your diet to support your weight loss efforts.
1. Fenugreek
Fenugreek is a clover-like herb with a long history of traditional medicinal use. It is also a common ingredient in spices, foods, beverages, and cosmetic products.
Studies on obese patients suggest it can also lower blood sugar, control appetite, and reduce weight. A fenugreek seed is about 50% fiber – much higher than in most medicinal herbs. The high fiber content provides an increased feeling of fullness and may lower the absorption of glucose and cholesterol in the digestive tract.
Fenugreek is typically consumed as a tea or taken as a dietary supplement.
2. Almonds
Almonds are rich in healthy fats and are part of many doctor-recommended diets as evidence shows they effectively reduce appetite. These beneficial properties can be attributed to several factors:
High protein and fiber content, which increases satiety
Monounsaturated fat acids, which improve insulin sensitivity
Phytonutrients that support beneficial gut bacteria
Greater effort required for chewing almonds, which additionally suppresses appetite
It is easy to incorporate almonds into your diet. Chop some up and add them to your morning oatmeal, take a handful of raw, whole nuts as a mid-morning snack, or add some almond slivers to your salad for an appetizing crunch.
3. Glucomannan
Glucomannan is a natural fiber supplement extracted from elephant yam. This plant extract has a high liquid-absorbing quality due to its elevated fiber content. Because of this, glucomannan provides an extended feeling of fullness. It is popularly used for weight loss, with some clinical evidence suggesting its effectiveness.
For the best results, take it three times daily with plenty of water one hour before meals.
4. Ginger
Ginger is popularly used as a tea to promote weight loss. Scientific studies give mixed results about its effectiveness for weight management but have detected the root's appetite-modulating effects.
Ginger supplements are more effective at suppressing appetite than ginger tea because the capsules contain a higher dosage. Both consumption methods may provide other health benefits, including lower blood and cholesterol levels and increased anti-inflammatory effects.
5. Gymnema Sylvestre
Gymnema sylvestre seems to be the perfect solution for people with a sweet tooth. Clinical trials suggest the acids in this plant selectively target sweet taste buds without affecting other tastes. Consequently, a patient's perception of a pleasurable sensation from high-sugar food decreases after consuming products with gymnema.
6. Oatmeal
Oatmeal is another popular food for weight loss, which many health experts include it in their nutrition plans. Oats are high in fiber and also contain other beneficial substances, including proteins, vitamins, minerals, and antioxidants. β-glucan, the soluble fiber present in oats, makes the meal viscous and increases the feeling of fullness.
For a healthy, sustaining breakfast, combine oatmeal with healthy fats from nuts, other proteins (e.g., Greek yogurt), and fresh or dried fruits.
7. Lentils
Lentils belong to the food group called legumes. They are rich in protein and fiber, leaving you full for a long period. Early evidence suggests lentils also support beneficial gut bacteria, improve digestive issues, lower blood and cholesterol levels, and improve energy. These properties may cumulatively improve various health factors, including appetite control.
8. Flaxseeds
The data is inconclusive about the effects of flaxseeds on weight management, but anecdotal evidence and some studies suggest their consumption leads to reduced appetite. Flaxseeds are packed with fiber, promoting the feeling of satiety, and they may help lower levels of the hunger hormone ghrelin.
Their nutritional profile, which includes thiamin (vitamin B1), copper, magnesium, calcium, and phosphorus, makes flaxseeds a healthy addition to daily meals and promotes overall wellbeing.
Health experts recommend adding a tablespoon of flaxseeds to oatmeal and homemade bread or consuming them with yogurt as a healthy snack.
---
Note: Find out how magnesium for weight loss works and how much should you take for the best results.
---
9. Avocado
Nutritionists refer to avocado as a superfood because it has a high healthy fat content and many vitamins, minerals, and antioxidants. Raw avocados are beneficial in weight-loss diets (in salads, spreads, and shakes) because the fats they contain help curb cravings. A recent study revealed that people who added avocado to their meals felt a reduced desire to eat within the next six hours.
10. Griffonia Simplicifolia
Griffonia simplicifolia is a plant containing the chemical 5-hydroxytryptophan (5-HTP), which exhibits potent medicinal properties. The plant has been used to treat various health issues, from depression and anxiety to excess weight.
5-HTP increases levels of the feel-good hormone serotonin, which may help improve the psychological factors behind food cravings and emotional eating. A small study observing 20 overweight women found that supplements with griffonia increased their feeling of satiety, helping them to decrease their body mass index.
11. Caralluma Fimbriata
Caralluma fimbriata is an edible cactus plant traditionally used to reduce hunger and increase energy levels. Today, it is used as a dietary supplement for weight loss, though its appetite-reducing mechanisms are not fully understood. Scientists suspect the plant helps downregulate the synthesis of the hunger hormone ghrelin.
The recommended dosage of the caralluma fimbriata extract is 500 mg twice a day for up to 12 weeks.
12. Apples
Apples provide many health benefits, adding truth to the famous saying: "An apple a day keeps the doctor away." Research now suggests apples may be some of the best natural appetite suppressants due to their high pectin (fiber) content. Pectin is shown to promote satiety and decrease body fat.
13. Coffee
Coffee is many people's favorite morning beverage and, in many cases, it replaces their breakfast. Anecdotal evidence suggests the main ingredient, caffeine, promotes satiety and reduces cravings, but scientific data doesn't confirm this.
If you notice coffee has positive effects on your eating patterns and weight management, don't break your drinking habits. However, caffeine causes anxiety at high doses, so be careful not to overdo it.
14. Green Tea
Green tea and water are usually the only two beverages allowed in medical weight-loss programs. Nutritionists recommend green tea as an aid in reducing pounds because of its unique combination of energy-increasing, fat-burning catechins (antioxidants) and caffeine. Though research is scarce, data suggests tea catechins, especially EGCG, may also modulate food intake.
15. Eggs
Eggs are another superfood because of their nutrient-dense profile. Eggs are considered a complete protein source because they contain all the essential amino acids. They also contain omega-3 fatty acids, vitamin D, folate, vitamins B2, B5, B9, B12, selenium, iron, iodine, etc. Because of their rich nutritional content, eggs can prolong satiety and reduce cravings until the next meal.
16. Conjugated Linoleic Acid
Conjugated linoleic acid is a type of fat naturally found in beef and dairy and used as a supplement to reduce high blood sugar, lower food intake, and decrease body fat.
CLA may cause mild side effects, such as an upset stomach, and can have moderate interactions with blood pressure and blood sugar medications. If you plan on using CLA supplements, first consult your healthcare provider.
17. Sweet Potatoes
Nutritionists recommend replacing regular with sweet potatoes, especially for overweight and insulin-resistant patients. This is because sweet potatoes have a lower glycemic index and contain vitamins and minerals which assist in food metabolism. They are also rich in dietary fiber, helping to promote satiety.
18. Garcinia Cambogia
Garcinia cambogia is a type of fruit rich in hydroxycitric acid (HCA), proven to reduce food intake in animal studies. Human trials show the garcinia cambogia supplement significantly reduces body weight, body mass index, fat mass, and waist circumference. Researchers hypothesize that HCA blocks enzymes that store fat and increase serotonin, which may explain its appetite-suppressing potential.
Consult your medical provider before starting a new supplement regime with garcinia cambogia.
19. Yerba Mate
Yerba mate is an herbal tea popularly used to enhance the metabolism, reduce cravings, and assist with weight loss. A study observed women who took yerba two hours before exercise, concluding that the supplement reduced the desire to eat and improved focus, energy, and mood. These effects may be attributed to stimulants in the herb – caffeine, theobromine, and theophylline.
Moderate amounts of yerba mate tea (e.g., one cup daily) are safe up to 12 weeks. Yerba mate can also be used as a supplement. Consult your medical provider on the best way to consume it to ensure it doesn't interact with your medications.
20. Wasabi
Wasabi is a spicy root vegetable traditionally used in Japanese cuisine. Researchers call it a natural appetite suppressant and attribute this effect to wasabi's pungent taste. They noticed that the plant activates receptors that may have a modulatory effect on ghrelin and glucagon-like peptide-1, a hormone causing reduced appetite. The findings suggest wasabi is a promising aid in treating metabolic issues, but human studies need to confirm this.
Add wasabi to your salads, soups, and vegetables to enjoy its hunger-reducing effects (and spicy flavor!)
21. Tofu
Tofu is a protein-rich food made from soy milk and is favored among vegetarians as a protein source. Its main appetite-reducing ingredient is genistein (isoflavone). Genistein is shown to curb cravings by regulating leptin, the hormone that regulates appetite and energy metabolism.
Incorporate raw, blended, cooked, fried, or grilled tofu into your meals for a sustaining and healthy protein.
22. Dark Chocolate
Chocolate is one of those foods we often indulge in when we have cravings, but there's a difference between milk and dark chocolate. While milk chocolate is high in sugar and causes spikes in blood sugar levels, research shows that dark chocolate with a high cocoa content (over 70%) has the opposite effects. Because of its bitterness, dark chocolate naturally reduces appetite, like wasabi. Also, stearic acid in cocoa butter is a type of fat that may increase satiety.
To reap the healthful benefits of dark chocolate, eat it in moderation (up to 2 oz. daily).
Conclusion
Many people battle food cravings and weight gain. Health experts maintain that the only sustainable solution to these issues involves a healthy diet and exercise, with or without additional aids (medication, cosmetic treatments, medical weight loss programs, etc.).
Hopefully, our list of the best appetite suppressants will help you change your habits and reduce food intake caused by stress, hormonal imbalances, and other common factors.
---
DISCLAIMER:
This article is not intended to give medical advice. It is important to always consult with your healthcare provider before starting a new supplements regimen or implementing dietary changes. These statements have not been evaluated by the Food and Drug Administration and these products are not intended to diagnose, treat, cure, or prevent any disease.