Fat that accumulates around the knees creates a puffy, bulging look and this problem isn't purely aesthetic. Knee fat can cause stiffness, pain and reduced range of motion due to extra pressure placed on the joints and the cartilage. This pressure also increases the risk of inflammation-related diseases, such as osteoarthritis.
Both men and women can develop fatty deposits in the knee region but women are more prone to storing fat in all body areas including the knee. Knee fat can give the kneecap (patella) an unattractive, bulbous appearance and can be difficult to tone.
This article explains the causes of knee fat and what treatments are effective at achieving toned legs.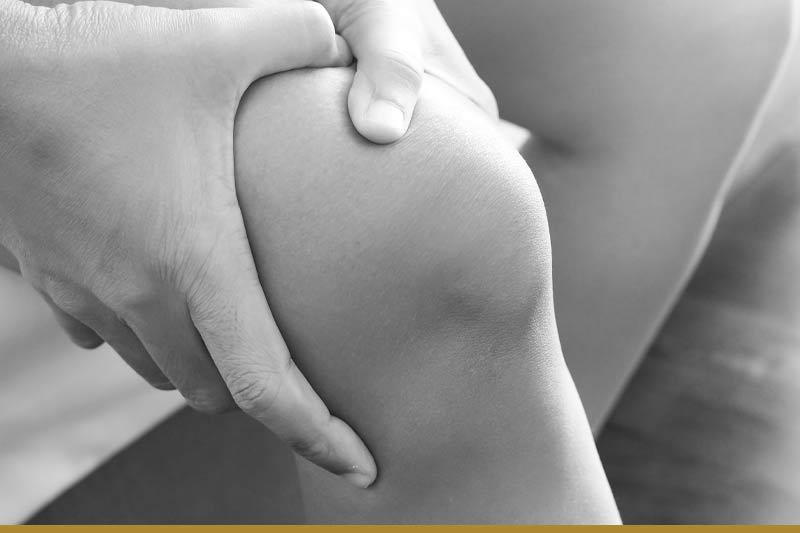 What Causes Knee Fat?
Knee fat pads can develop due to several different factors that are not mutually exclusive and when combined can worsen the condition. If not addressed promptly, accumulation of knee fat can cause gradual wear and tear of the knee cartilage, making movement difficult and painful.
The most common causes of knee fat include:
Weight gain – Being overweight contributes to uneven fat distribution and its accumulation in the leg area.
Genetics – Some people are genetically predisposed to storing excess fat in the buttocks, thighs, or knees.
Sedentary lifestyle – Lack of physical activity increases the likelihood of fat accumulation and decreases overall mobility, weakening the muscles that support and tone the legs.
Poor diet – A high-calorie diet that is nutritionally poor and contains a high proportion of inflammatory foods can worsen body composition and increase fatty tissue around the knees.
Age – Your body starts metabolizing fat less efficiently as it ages, resulting in a lower calorie expenditure that causes weight gain in all body areas.
Hormonal changes – Imbalanced progesterone and estrogen levels during pregnancy or menopause can impact fat storage patterns, triggering hormonal weight gain, water retention, swelling, and uneven fat distribution.
How to Lose Knee Fat
There is a variety of knee fat removal solutions, ranging from lifestyle modifications to non-invasive or surgical procedures. Consult a medical professional for recommendations. They will tailor the knee-slimming treatment based on the condition's cause, symptoms, and severity.
Exercise
Moderate exercise is beneficial for knee health because it improves circulation, increases flexibility and mobility, and contributes to muscle definition and fat reduction. However, protecting your knees during physical activities is vital. Choose appropriate footwear and soft surfaces for high-impact activities, avoid overtraining, and take days off for full muscle recovery.
While there are no knee-specific workouts designed to target the inner or outer fatty pads, the following exercises can strengthen, tighten, and tone your legs:
Walking
Running
Bike riding
Jumping rope
Step-ups
Regular lunges
Reverse lunges
Curtsy lunges
Regular squats
Pistol box squats
Squats with hip bands
Front foot elevated squats
Seated leg extensions
Terminal knee extensions
---
Note: Learn about how to tighten skin on legs through lifestyle changes, skin products, and treatments.
---
Diet
A well-balanced diet can help you achieve well-shaped legs. Nutrient-rich food optimizes muscle function, increases metabolic rate, and aids in weight management.
You can reduce knee fat by modifying your diet in the following ways:
Implement a calorie-deficit meal plan to drop a few extra pounds.
Maintain a balanced calorie intake to secure optimal BMI.
Maximize protein intake to balance satiety and hunger hormones.
Reduce inflammation with anti-inflammatory foods (e.g., leafy greens, fatty fish, nuts, berries, green tea, cruciferous vegetables).
Boost hydration to improve skin elasticity and eliminate saggy skin around the knees.
---
Note: Intermittent fasting is a dieting regimen that can help you lose weight, reduce inflammation, speed up cell reparation, and even increase endurance. Learn more about the benefits of intermittent fasting for weight loss.
---
CoolSculpting
If exercise and diet don't yield satisfactory results, you can target knee fat through cryolipolysis, an FDA-approved method branded under the name CoolSculpting. This non-operative treatment involves freezing fat cells and allowing the lymphatic system to flush them out afterward.
CoolSculpting helps in weight loss by eliminating persistent fat pockets in different problem-prone areas. This cosmetic procedure isn't a weight loss treatment. Nevertheless, it can help you get rid of stubborn fat deposits through a controlled cooling technology that doesn't require any recovery time.
---
Note: Learn more about common CoolSculpting treatment areas.
For CoolSculpting in Phoenix, AZ, book a consultation at Vibrant Skin Bar.
---
Medical Weight Loss
Medical weight loss is a guided program that helps patients lower their body mass index (BMI) under medical supervision. Its personalized, holistic approach aims to address all the individual physical and psychological causes of weight gain, a patient's genetic predispositions, and other risk factors.
A team of experts creates a customized, medically supervised weight loss program that includes:
Assessment and evaluation
Close monitoring and support
A highly individualized meal plan
A tailor-made fitness regimen
The doctors might also prescribe hormone therapy in case of an underlying medical condition triggered by a hormonal imbalance.
---
Note: Find out in what ways hormone replacement therapy aids weight loss.
---
Alternative Options
Sometimes diet, exercise, and non-invasive medical treatments cannot eliminate knee flab nor produce well-sculpted legs. The following procedures might help you achieve the desired look:
Liposuction – This surgical fat removal procedure can target specific problematic regions, typically from the inner knee. Most surgeons will perform it together with thigh liposuction to obtain a contoured leg shape.
Mesotherapy – This non-surgical alternative to liposuction involves injecting vitamins, enzymes, hormones, and plant extracts in the mesoderm (middle skin layer) to reduce cellulite, remove fat, rejuvenate, and tighten loose skin.
Laser lipolysis – Laser lipolysis is another non-surgical body-sculpting solution that can permanently remove excess fat deposits. Recovery time is minimal, with quick skin-tightening effects.
Ultrasound – Sofwave is a minimally invasive cosmetic procedure that uses cutting-edge ultrasound technology to remove cellulite and droopy skin, and enhance overall skin quality.
Red light therapy – This technique emits low-level wavelengths of light that shrink fat cells, promote lymphatic circulation, reduce inflammation, and tighten loose skin. Moreover, light therapy stimulates collagen production to firm up saggy skin and improve its natural elasticity.
---
Note: Learn more about the benefits of red light therapy for weight loss.
---
Conclusion
Unwanted fat layers negatively impact the health and mobility of your knees and interfere with your favorite activities. Luckily, there are many ways to reduce knee fat and tone the surrounding muscles. Dieting, exercising, and fat-reduction treatments can help you obtain well-proportioned, slim legs.
For more information on weight loss in general or any of the mentioned treatments, or if you wish to book an appointment, contact us.