Scientists are closely studying the world for substances that will help improve people's health and increase longevity. The most remarkable discoveries are often made in our bodies. One such amazing compound is glutathione (GSH).
This tripeptide is present in the cells of all living organisms. In humans, it is produced in the liver. However, its concentrations deplete due to aging, poor nutrition, environmental toxins, and stress. Low glutathione levels reduce our immune response to stressors and diseases and take a toll on our skin.
To combat these issues, medical providers recommend supplementing glutathione. Glutathione injections have proven more effective than pills and creams because they evade the digestive system, which reduces GSH absorption.
Read on to learn how glutathione injections work, what benefits they provide, and how often to use them.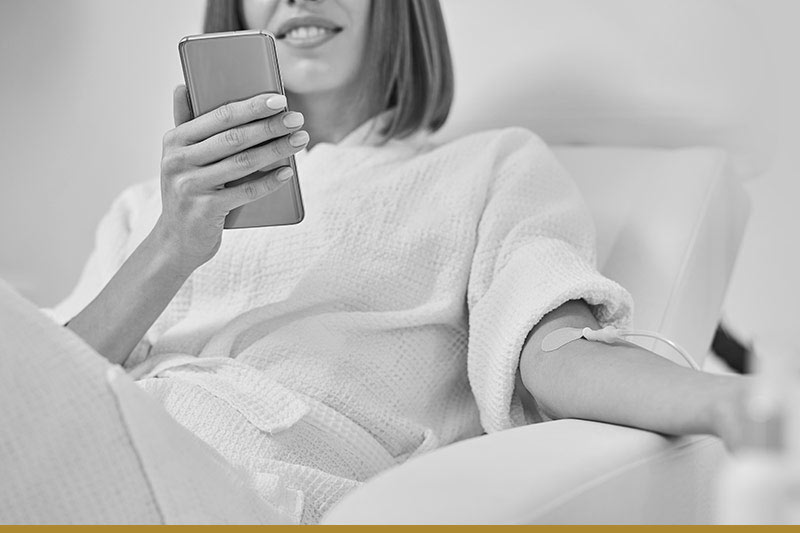 What Is a Glutathione Injection?
A glutathione injection is the intravenous application of glutathione – a tripeptide made of glycine, cysteine, and glutamine.
Glutathione naturally occurs in high concentrations in cells. Health experts call it the master antioxidant because it instantly neutralizes oxidants that attack cell membranes.
Glutathione injections help detoxify the patients' bodies, improve their overall health, and provide glowing skin.
Despite patient experience proving their safety profile, the FDA hasn't approved glutathione injections yet. The treatment has become popular as a skin-lightening solution, but the agency claims no studies confirm its safety and effectiveness for this use.
---
Note: Learn more about IV therapy and how it works.
---
Glutathione Injections Benefits
The benefits of glutathione injections are not confirmed by scientific research. However, limited studies and extensive clinical practice show the many positive effects of restoring glutathione levels. They include*:
Improved mood
Reduced oxidative stress
Decreased inflammation
Improved insulin levels
Stronger immunity
Liver and kidney detoxification
Brighter, smoother, hydrated skin
When glutathione levels decrease, the body has a lower capacity to fight free radicals. This leads to oxidative stress, which may trigger severe diseases. Many health experts believe that restoring high glutathione levels indirectly contributes to helping the body fight off or manage the symptoms of diseases, such as*:
Cancer
Diabetes
Autoimmune diseases
Chronic fatigue syndrome
Fatty liver disease
Lung diseases
Psoriasis
Parkinson's disease
Autism
*Disclaimer
These statements have not been evaluated by the Food and Drug Administration. This product is not intended to diagnose, treat, cure, or prevent any disease.
---
Note: Find out how IV therapy can help improve your health.
---
Glutathione Injection Process
Glutathione can be administered in the vein through an IV or given as an IM injection, like vaccines and other medical injections. The medical provider first disinfects the spot on the arm where the needle or IV is inserted, and the substance quickly enters the bloodstream.
Patients typically feel the energy boost after a few hours. For a brighter complexion and a more dramatic improvement in their overall health, they need a series of treatments.
---
Note: Learn about other ways to take glutathione effectively.
---
How Many Glutathione Injections Should I Take?
The treatment plan is customized for each patient. The number and frequency of sessions depend on the patient's medical condition, metabolism, issues they want to improve, and the provider's experience.
Many providers recommend starting with two or three glutathione injections per week for four weeks and continuing with weekly sessions for another month or until the patient is happy with the results.
Glutathione Injections Side Effects
Side effects associated with glutathione injections vary from mild to severe, depending on the provider's skill and experience.
Mild side effects include:
Pain
Bleeding
Bruising
Mild diarrhea
Chills
Nausea
Headache
Severe complications include:
Allergic reactions
Skin rashes
Breathing problems
Toxic epidermal necrosis
Eye disorder
Severe complications are rare and are often the result of inadequate dosage and the provider's inexperience.
Always choose a certified medical professional for intravenous or IM glutathione administration to minimize the side effects.
Glutathione Injections Aftercare
Patients can resume their daily activities after the injection.
If you experience bruising, apply an ice pack every 15-30 minutes to ease the pain and swelling.
Patients who experience headaches or pain can take over-the-counter pain relievers as instructed by their medical providers.
Glutathione Injections Cost
At Vibrant Skin Bar, one glutathione injection costs $40. The total treatment price varies from patient to patient, depending on how many injections they need.
Conclusion
A glutathione injection treatment has multiple applications, from improving the complexion to managing the symptoms of severe diseases. It is a quick and effective way to stimulate the body's natural defenses against oxidants and other health factors.
Schedule a consultation with our medical providers to learn how many treatments you will need to reach your health and beauty goals.